Rise & Shine
By Satarupa Chakraborty | June 12, 2018
Personifying style, beauty and even power, jewellery has always retained its charm and continues to allure shoppers across the globe. In India, where traditional retailers are still dominant, there has been a surge in the number of organised jewellery chains across the country. Shedding its wedding or occasion wear image, gold and diamond jewellery segment is focussing on daily, casual and work wear category too. Increasing the bandwidth in consumer cohorts has resulted in retail expansion; renewed business models and store design have taken more of a strategic turn. VM&RD discusses some of the current trends that jewellery retailers are adopting these days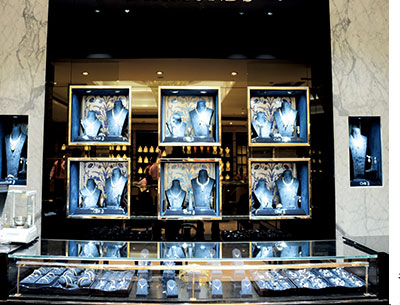 A recent Deloitte report listed 5 Indian brands amongst "Top 100 luxury brands", where three out of five turned out to be top names in jewellery – Kalyan Jewellers, PC Jewellers and Joyalukkas India. According to annual report of ROC MCA, 7 leading jewellery brands of India have registered a CAGR of 10% over the last 3 years, especially fuelled by their store network expansion. If we closely watch the growth story, it has been aided by India's consumer affinity towards luxury goods, increased acceptance of platinum and diamonds and a noticeable shift from wedding jewellery to daily wear. However, all that glitters is not gold. Falling value of rupee, regulatory challenges and recent sensitivity around financing have marred the growth and the business is expected to plummet by 4-5% in the next quarter. Reports and surveys have better indications for far future, though. Daily and occasion wear segment is in fact taking over the wedding category to contribute almost 49% to the total market by 2020 (Source: EY). Rising consistently, the overall diamond share is expected to grow by 25% in the same time span (Source: EY).
Roll-Out Spree
Interestingly, Indian jewellery market, one of the largest in the world, with a market size of $13 billion, second only to the US market of $40 billion, has witnessed typically family-owned businesses flourishing into successful jewellery retail chain. Founded as a family business in 1956 in Kerala, Joyalukkas, transformed into an organised brand in 2000 and today has 140 showrooms across 11 countries. Joy Alukkas, CMD, Joyalukkas Group, shares, "Our Mission 2020 will see us expanding to 220 showrooms in 14 countries." Established as a brand in 1993, Malabar Gold & Diamond, one of the top five jewellery retailers with 200 outlets across 9 countries, is on a rollout spree too and recently made a record of opening 11 showrooms across 6 countries on a single day. Clocking a turnover of INR 15,000 crores in three years, Kalyan Jewellers plans to strengthen its store presence in domestic markets while closely watching on the promising locations.

Like any other categories in retail, store rollout seems to have become indispensable for jewellery retailers as well as brands. Back to one of the organically organised jewellery brand from Titan Group, Tanishq, holding a market share of 3.2% of the organised jewellery market, is augmenting its store network through far-fetched towns and riding high on franchisee model for 7580% of their upcoming stores in order to keep the business model lean.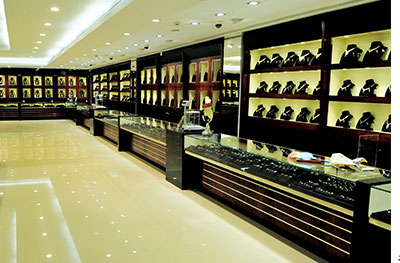 Millennial Calling
Jewellery trends are moving beyond heavy gold/wedding line to lighter/daily versions. Therefore, the brand positioning has taken a major turn as well. To counter the omnipresent avatar of a wedding jeweller, Tanishq came up with two workwear sub-brands, Mia and Rivaah. Mia alone has a network of around 15 stores and has substantial e-commerce presence to attract millennial shoppers. Opening its first standalone store in the capital recently, Sandeep Kulhalli, Senior Vice President - Retail & Marketing, Tanishq said, "We are planning to amp up our store expansion. We also work continuously to align our thought process with today's women and try to dish out best retail experience for her."
Strategic consumer positioning of Titan continued with their association with India's first omni-channel jewellery brand, Caratlane, which has a strong store network of 40 stores and it's growing.
Unpredictably enough, millennials are no longer an out-of-league cohort. Last year, Malabar Gold & Diamond launched its lifestyle jewellery range MGD and its cohesive retail format. Apart from e-commerce channels, this concept will be seen at malls, department stores, hotels, travel retail, inflight and high streets and will be taken to a mark of 100 stores by 2019. From the same segment, Tribhovandas Bhimji Zaveri (TBZ) has also reported the increasing number of young shoppers for their brand and have plans to revamp store formats, packaging and design.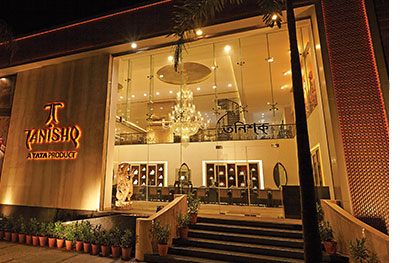 Stores For Jewellery Of Today
Harshil Khichadia, Head – Projects & Business Development, TBZ, explained, "Addressing to our growing number of young consumers, we are freshening up our retail design. In our new ID, wall display will reduce by 50-60% while we will lower our store inventory to encourage more shop floor interactions. We are also moving to more architectural façade with no loud branding."
The concepts of large façade, strong branding, multiple merchandise on shop window seem to be fading even with brands like Caratlane, Tanishq, Mia and even with larger retailers like Joyalukkas. "While the layout follows our global guidelines, we add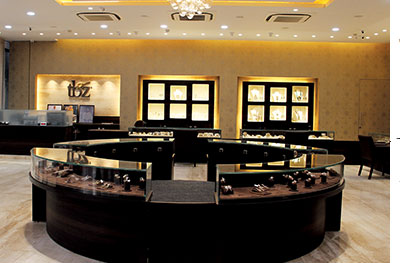 touches that are unique to the area. In Chennai, for example, we noted that there was a high demand for diamond and wedding jewellery. So we created one of our biggest showrooms in Chennai, as well as a dedicated wedding planning division to cater to the area's specific requirements," Joy Alukkas mentioned.
Moving the spotlight to some of the eminent regional retailers, RS Brothers and South India Mall, who have prominent jewellery sections, spanning across 2000 sq ft to 3000 sq ft in their MBO formats are improvising their retail design. Once dominated by wood as the principal material, these outlets are experimenting with Onyx stone, Shibu laminates, rose gold bidding and frames etc.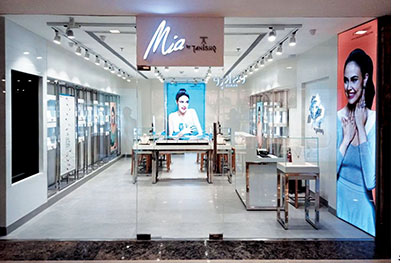 with special focus on VM spaces.
Omni-channel Crux
In this turning tide, like any other category, jewellery retailers do not see omni- channel as a mandatory channel, except for a few organised ones. Though online jewellery segment is growing at 70-100% yearon-year, there are only 4-5 noteworthy players in e-commerce-only channels in the country. Talking on omni-channel embarkment, Caratlane, who is eyeing to make a business worth of INR 500 crores by FY19 through combined channels, certainly deserves a special mention. While speaking on strategic omni-channel adoptions, especially in stores, Vidyasagar, National Head-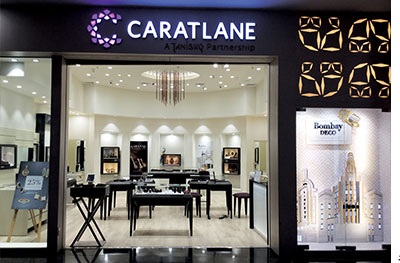 Retail, CaratLane, said, "CaratLane stores are designed for a truly omni-channel experience. The seamless buying experience comes with Magic Mirrors for virtual try-ons, while online channels offers try-at-home service. To further fortify such experiences, we have launched a revolutionary virtual try-on app recently." Known for its traditional proposition, Kalyan Jewellers is one of the few retailers who is strengthening its online presence and bought equity in online portal Candere last year. The jewellery retailer will be resorting to this online channel for small ticket purchases.
Bring On The Bling
Being home to more than 300,000 players in the sector, with the majority being small players, the jewellery market size in the country is expected to reach $100-110 billion by 2021-22, contributing almost 29% of global consumption (Source: IBEF). These promising growth figures are prompting many family-owned businesses to convert into successful chains, while many have expanded their retail footprint in foreign countries, especially in the Gulf. Amongst organised brands, one of the fastest growing player, Titan Group, is relying on its jewellery business to contribute about 90% of their total projected sales figure of INR 50,000 crores by 2023. While their jewellery brand Tanishq is betting big on wedding jewellery, many of their counterparts are feeding to the increased consumer interest in platinum, diamond and daily wear segments. Occasionally slumped by increased metal prices or regulatory challenges, India's jewellery market is expected to be soon part of flourishing luxury good market.