Sahara Q Shop enters Guiness World Records
By VJ Media Bureau | Vjmedia Works | 2 | April 18, 2013
The retail brand from Sahara India Pariwar creates record by launching 315 stores across India at the same time.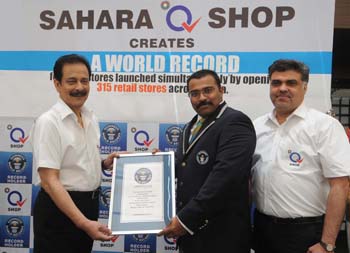 Sahara Q Shop, the retail venture from Sahara India Pariwar, entered the Guinness World Records by simultaneously opening 315 Sahara Q shops across India at the same time. The unveiling of multiple store launch was held on April 1, 2013 at 4:00 p.m, in 10 States across India.
Speaking on the occasion,'Saharasri' Subrata Roy Sahara, Managing Worker & Chairman, Sahara India Pariwar, said, "It's a moment of great pleasure for me to present 315 more stores to the people of our beloved nation.
The outlets are one more initiative to curb the menace of adulteration in the market and provide the society with 100% unadulterated, quality consumer merchandise products at fair market prices. I would also like to thank the team of Guinness World Records for appreciating our effort by accepting it as a new record."
Nikhil Shukla, India Representative and Adjudicator, Guinness World Records, said, "We certify the new record made by Sahara Q Shop of most stores launched simultaneously, which means that all these stores had to be launched at the same time, and Sahara Q Shop achieved this by launching these 315 stores at 4:00 pm IST. We congratulate Sahara for this achievement and wish them all the very best for the future."
Romie Dutt - Executive Director, Sahara Q Shop said "In a short span of almost 8 months from our launch, the consumers have appreciated our products for quality and purity and we are rapidly expanding our distribution network to provide our quality consumer merchandise to the entire country."
Sahara Q Shop stores opened under franchisees as well as company owned formats, having sizes of 300 sq ft, 400 sq ft and 500 sq ft area. The stores will provide food (staples and processed food) non-food (personal care and home care), General Merchandise, Consumer Durables and Lifestyle products. Sahara Q Shop has 550 operational stores. By end of this financial year (April 2013 to 31st March 2014) this count will reach 10,000 stores across India.