Sangeeta Pendurkar joins Pantaloons Fashion Retail as CEO
By Satarupa Chakraborty | January 16, 2018
With over 25 years of experience in sectors across FMCG, financial services and pharmaceuticals Sangeeta Pendurkar joins Pantaloons Retail as CEO after her last stint at Kellogg India as MD.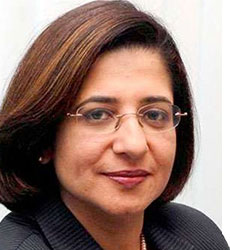 Pantaloons Fashion Retail, an unit of Aditya Birla Fashion Retail, has recently appointed Sangeeta Pendurkar as CEO. Pendurkar served her last stint at Kellogg India as Managing Director and has over 25 years of Marketing, Sales & General Management experience, spanning across sectors of packaged foods, beverages, financial services & pharmaceuticals. Pendurkar has been listed in Fortune's most powerful women in business for 4 consecutive years from 2011-2014. She has been on the list of Impact's 50 most influential women in media, marketing and advertising for 4 consecutive years from 2012-2015. She was the Chairperson of FICCI Food Processing Committee, 2015 & the Co-Chair in 2013-2014.
The appointment has been made following previous CEO Shital Mehta's resignation last year. Mehta went on to join Landmark Group's value fashion chain, Max as CEO.