Spencer's plans to launch 10 hyper stores this year
By Nabamita Chatterjee | Vjmedia Works | April 25, 2013
The retailer announced the launch of its fifth hyper store at New Town Square, Kolkata.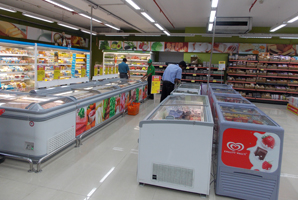 Spencer's Retail Limited, has launched its fifth hyper store in Kolkata at New Town Square. Spread over a trading area of 40,000sq.ft, the store will target New Town's residents providing a modern shopping experience with an array of more than 20,000 quality products from different reputed brands. About 18,000sq.ft. of area has been devoted to home and apparel shopping in the hyper store. Mohit Kampani, Chief Executive-Spencer's Retail shares, "We are very proud to launch Kolkata's 5th Spencer's Hyper at New Town Square and are confident of delivering value service to our discerning customers with the widest range of over 20,000 quality products at affordable prices, under one roof.
The range and assortment is the best in the catchment and has been put together keeping in mind the requirement of the shoppers in the locality and lot of emphasis has been laid to ensure shopping convenience." The store decor has been designed by international store design consultants which provides a global setting comprising of modern day store fixtures, curved signage and so on to provide zone identification giving a visual relief to the shoppers.
Spencer's Retail Limited currently runs about 132 stores, including 27 large format stores across 45 cities in India. Speaking on their expansion plans on the occasion, Kingshuk Basu, Executive Director, Operations, shares, "We are planning to open more than 10 large format hypers in the cities like Aligarh, Bhopal, Lucknow, Gurgaon, Raipur, Dhanbad, another store in Kolkata, Chennai, Rajamundri, Karappa. We are trying to add on three hundred thousand square feet of new trading area and this will be a very significant growth year for Spencer's."