Tata's Star Bazaar to halve store size
By Chaitanya Muppala | Vjmedia Works | February 04, 2014
The brand to focus on Karnataka, Maharashtra where Tesco-Trent JV will open stores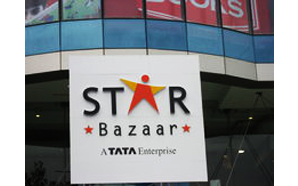 Less than two months after it announced a joint venture with the world's third largest retailer Tesco, hypermarket chain Star Bazaar is looking to halve the size of its stores, said an executive in the know.
Tata group-promoted Trent Hypermarkets, which runs stores spread across 40,000-80,000 sq ft under Star Bazaar brand, is now looking to open outlets measuring 20,000-30,000 sq ft. "The company believes that smaller stores are better to manage and keep the costs under check," said the executive. The strategy to reduce store size is to achieve faster profitability, he added.
Although Star Bazaar had set up its first store in 2004, it is yet to achieve profits. In FY13, the chain registered a net loss of Rs 72 crore on net sales of Rs 785 crore.
"Hypermarket is low-margin business. If you are not careful in expansion, you will blow it up," said the executive quoted above.
When contacted, the external communications agency of Trent said the company would not like to offer any comments.
According to the joint venture proposal submitted to the government, Tesco said it would pick up a 50 per cent stake in Trent Hypermarkets, and the venture would operate in India through a chain of stores under various banners such as Star Bazaar, Star Daily, Star Market, branded as'A Tata and Tesco Enterprise'. The plan is to open three-to-five stores every financial year.
According to the executive, Star Bazaar will mostly focus on opening stores in Karnataka and Maharashtra this year. These are the states where Trent-Tesco joint venture wants to operate and build existing portfolio of stores. The firm is looking to open three neighbourhood convenience stores under the'Star Daily' brand this year. The 2,000-3,000 sq ft stores are modelled on the Tesco Express in the UK that sell fresh foods, groceries and essential items.
Star Bazaar is also reportedly looking at opening a new format called'Star Market', which is a go-between Star Bazaar and Star Daily.
According to industry sources, Star Bazaar is treading cautiously on expanding its store count. IN FY 2013, it did not open a single store due to real estate delays. In FY 2014, it has opened three stores so far.
However, Star Bazaar is not alone which has cut down on size of stores to achieve faster profitability. Raheja-owned Hypercity has also brought down the average size of its stores of 100,000 sq ft to 50,000 sq ft and recently opened two stores of 30,000 sq ft. Due to delay in downsizing of stores, Hypercity's break even could be delayed to FY16, it is learnt.
Harminder Sahni, founder of retail consultancy Wazir Advisors, believes retailers are opting for smaller sizes under two circumstances—one, when they do not get large stores and secondly, when store economics does not make sense to run large stores and they are better off removing certain categories from the stores which are not working well.