TBZ's 1st Karnataka store opens in Phoenix Market City, Bangalore
By Retail4Growth Team | January 16, 2019
Positioned as TBZ-The Original, the Bangalore store is the 41st outlet of the jewellery retailer across 29 cities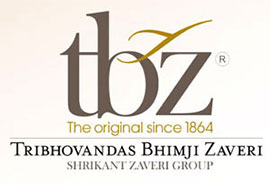 TBZ (Tribhovandas Bhimji Zaveri Ltd), the 154 year old jewellery retail brand now enters Bangalore with its first-ever store in the state at Phoenix Market City Mall, in Whitefield Road. The store is positioned as TBZ-The Original Bangalore and is also the 41st TBZ-The Original store across 29 cities in India.
Speaking about it, Raashi Zaveri, Director, Tribhovandas Bhimji Zaveri Ltd, said, "Just as Bengaluru is a melting pot of cosmopolitan culture and interesting influences, TBZ-The Original new collections are inspired by our customers and cater to today's woman. We intend to provide the city's stylistas with the best design and instore-experience. As a part of our new product range, the designs will cater to every woman who wears jewellery to complete her look and not necessarily only for occasions."
TBZ-The Original, Bengaluru offers a wide array of innovative, fantastic and attractive jewellery designs with an added attraction of custom-made products. The showroom showcases a vast range of contemporary and modern jewellery collection and a mix of gold, diamond and precious stones studded jewellery for discerning customers. It provides the same standardized shopping experience to customers as other company owned stores.