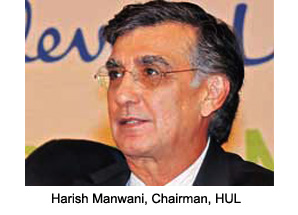 Technology and innovation would be the backbone of Hindustan Unilever's future readiness as it navigated an increasingly complex and volatile world, chairman Harish Manwani said at the company's 81st annual general meeting.
The Rs 28,019-crore consumer goods company, the largest in India, unveiled a five-pronged strategy, which it said would help it adapt to the "new normal" that was marked by continuous and dramatic change.
"Last year, I had spoken about a volatile, uncertain, complex and ambiguous world we operate it. This world poses opportunities and challenges. It requires companies to change the way they operate and constantly reinvent themselves. Being future-ready means having the vision and capabilities to compete in the world of tomorrow and having a larger purpose to remain relevant to society," he said.
The five-pronged strategy, Manwani said, would include embracing technology and inclusive innovation that met the needs of consumers across the spectrum. "The second point is about committing ourselves to sustainable and responsible growth. Third is about building future-ready talent and capabilities. Fourth is value-led and purpose-driven leadership and finally creating an agile and inclusive work culture," Manwani, who is also chief operating officer, Unilever, said.
Manwani, who assumed charge as non-executive chairman of HUL on July 1, 2005, said India was at the forefront of change opportunities for companies such as HUL. "In spite of recent economic challenges, India is poised to become the third largest economy in the world by 2030. Today, there are over 875 million phone subscribers in India and the 'taar' (telegram) is history. Today the penetration of mobile phones is higher than any traditional media in many rural areas bringing with it connectivity that allows easy access to knowledge and information. Companies that have tapped into this class of tech-savvy consumers have experienced unprecedented growth. To be truly future ready, one has to leverage technology to cater not only to the rising middle class, but also to consumers at the bottom of the pyramid," he said.
Manwani said HUL was using technology across the value chain from manufacturing to distribution, marketing and advertising in its endeavour to be future-ready. "To strengthen our reach in deep rural areas, we deployed a low-cost mobile IT solution that enables thousands of our Shakti Ammas to take and bill orders and manage inventory in real time. I visited some Shakti Ammas last week in Mangalore and I am extremely proud of this initiative because it has made them more productive and helped them to enhance their income," he said.