umdasch CEO Silvio Kirchmair to speak at ISA, 2019
By Satarupa Chakraborty | December 13, 2018
The industry leader will be sharing his views on 'Retail Fixture Trends 2019' at In-Store Asia, 2019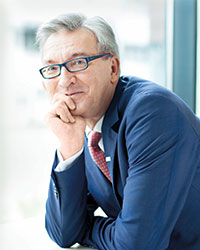 Silvio Kirchmair, CEO, umdasch – The Store Makers, who comes with over 35 years of industry
experience, will be speaking on 'Retail Fixtures Trends 2019' at In-Store Asia 2019 (now a part of the family of EuroShop Düsseldorf, the world's #1 retail fair), the largest retail experience expo and convention in the Indian subcontinent. The next edition of the event is scheduled to be held during March 14-16, 2019, at Bombay Exhibition Centre, Goregaon, Mumbai.
Starting his career as an advertising professional, Kirchmair was involved in various sales, marketing and leadership roles at companies like Internorm Fenster AG, Time Manager International, Constantia Industries AG and HOERBIGER Group before joining umdasch Store Makers management as CEO in 1993. umdasch -- The Store Makers is one of the leading shopfitting concerns in Europe, with a staff of about 1,400. The corporate headquarters is in Amstetten, Austria. With some 20 branch locations in Europe and the Middle East, umdasch and its four operative divisions Lifestyle Retail, Food Retail, Premium Retail and Digital Retail manage over 7,000 shopfitting projects and 100 general contracting projects every year.
Similar News
Roya Sullivan, National Window Director, Macy's, who comes with extensive industry experience, will be sharing her views on holiday windows at the In-Store Asia, 2019.
Vineet Gautam, CEO, BESTSELLER India, who has over 19 years of experience in retail and marketing, will speak on 'Fine-tuning International Retail Design ID for India' at ISA, 2019.