V-Bazaar Retail enters Odisha
By Retail4Growth Team | October 10, 2019
The new store is located at Post Naya Bazar, Paradeep Road, Cuttak, Odisha.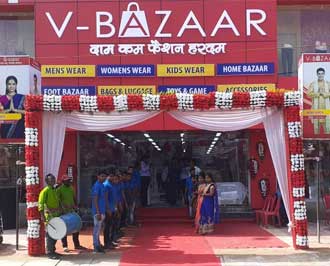 Value fashion retailer V-Bazaar Retail has entered the eastern region of India with its first store in the state of Odisha. The new store is located at Post Naya Bazar, Paradeep Road, Cuttak, Odisha.
Hemant Agarwal, CMD, V-Bazaar, said, "It is a very happy and proud moment for us to make our entry into Eastern region with our 1st store in CUTTAK. We are opening our 5 stores at the same time in different parts of India which will make our store count to 60."
"Looking at the overwhelming response of our other stores in different states we thought of providing the same shopping experience to the people of Odisha. It has been our attempt to provide our customers the superior merchandise, service and the overall international shopping experience. This new store in Cuttak is a significant achievement for us. Our new store is fashionable and individualistic, showcasing a collection of the finest quality merchandise at unbelievably pocket friendly prices," he added.
V- Bazaar is a complete family fashion store which brings trendy and fashionable merchandise to every category of people, at reasonable prices by eliminating the middleman between manufacturers and customers.
V-Bazaar Retail had generated revenue of Rs 220 crore ($31.1 million) for the fiscal year 2018-19 and plans to add around 60-65 more stores by 2021 which includes entering new states like Delhi NCR, Uttarakhand, and Assam.
For more updates, subscribe to retail4growth newsletter - Click here
Similar News
Spread across 454 sq.ft, the exclusive store launch supplements the premium beauty brand's plan to expand their retail footprint in India.
Expanding its retail presence in Indian market, High Street Essentials Pvt. Ltd (HSE) launched its first exclusive Indya store in Hyderabad. The new store celebrates the brands landmark of reaching 22 stores in the country.
The new Celio Store is located at Dumraon Palace, Frazer Road, Patna and is spread across approximately 800 sq. ft.