We'll drive innovation in value-added products: Saugata Gupta
By Dinesh Jain | Vjmedia Works | May 12, 2014
The Managing Director of Marico talks about the company's way forward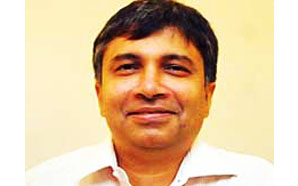 Since taking over as managing director of Marico last month, Saugata Gupta, previously the chief executive officer, has been hard at work driving the company's vision forward. In his first detailed interview, Gupta responds to questions from Viveat Susan Pinto on how he will grow the value-added portfolio of Marico, besides dealing with the twin challenges of El Nino and rising input prices that have impacted the margins of most consumer goods companies in the fourth quarter. Excerpts:




How do you propose to take chairman Harsh Mariwala's value-added agenda forward?
In the past few years, we have entered the hair colour, body lotions and the healthy breakfast segments. We continue to innovate in those categories. For example, we recently launched Parachute Advansed Summer Refresh body lotion spray. About 15 per cent of our revenue comes from value-added products. We will have to continuously innovate in these segments and drive category expansion and market share growth.
As far as Saffola is concerned, oil and oats have been successful segments. Where else will you extend it and what about the extensions such as rice, salt and wheat flour additives? Are they still available?
Saffola oil and oats are very successful and we will continue to innovate with them. The Saffola refined edible oils franchise grew about 11 per cent and nine per cent in volume terms during the fourth quarter and the full year ended March. We revamped our top-end variant, New Saffola, with an improved offering for modern-day needs called Saffola Total. We have seen good traction since its launch.
Saffola maintained its leadership position in the super premium refined edible oils segment with a market share of about 55 per cent during the 12 months ended March, reporting a continuous improvement in performance.
In the long term, we expect to establish Saffola as a leading healthy lifestyle brand that offers solutions for breakfast and in-between meals. The challenge is to get the sweet spot between taste and health and drive consumer preference from indulgence to healthy eating. Saffola savoury oats are now available in six flavours. Saffola has a market share of over 14 per cent by volume in the oats category and has emerged as the No. 2 player in the category. Saffola Oats crossed the Rs 50-crore-mark in top line in the last fiscal (FY14). We expect to continue the robust growth in this segment through focused innovation.
How are you responding to the slowdown challenge? Are you expanding rural reach where growth is still better than urban areas or coming out with small packs or value-adding that makes a tangible difference to consumers, forcing them to buy?
Traditionally, FMCG (fast-moving consumer goods) is the least volatile of all sectors and the impact is felt towards the fag end of a slowdown. In the urban market, there has been an impact on packaged foods and top-end personal care, which is essentially discretionary. There are enough growth opportunities in middle India (tier-2 and tier-3 cities) and rural India where there is a high appetite for consumption. Therefore, we are investing behind direct distribution expansion in rural India and the results have been encouraging. However, food inflation and a potential scanty rainfall could impact the FMCG rural story.
How are you gearing up for a possible long dry spell ahead? Any strategies in place to deal with this?
Our rural contribution is 32 per cent, which is lower than the peer set. Our sales contribution from the heartland which is more likely to get impacted by the possible El Nino effect is lower because of our sales skew towards the South, Maharashtra and Eastern India. Hence, in a relative sense, our impact will be lower. However, there could be resulting food inflation and lower rural consumption, which we have to brace for.

What is your urban and rural reach like and what has been the growth you have seen in the two areas in the past few years?
The rural markets are growing at a very healthy rate and we foresee a similar rate of growth for the next few years. It is growing at about a rate which is 4-5 per cent faster than urban markets thanks to a growing distribution outreach and higher investment in those areas. We would like to scale up our rural outreach and penetrate close to about 50,000-60,000 towns in the next few years. In the past financial year alone, we doubled our coverage to 30,000 towns. We will expand our network and distribution channels and continue carving out go-to-market initiatives that are tailor-made for the respective market.
Input prices were benign in the last few quarters. Do you see that putting pressure on operating margins?
We operate in emerging markets where volume growth and market share gain is perhaps more critical than short-term margins. Yes, there will be pressure on margins in the near-term, but our focus will be on driving long-term growth.