Globus – Back to college
By Satarupa Chakraborty | June 11, 2018
Aimed to connect with the youth, Globus' recent denim window resonates classroom vibe by presenting artsy installations of blue paper airplanes and butterflies for men's and women's window respectively. The window planning, involving an eco-friendly material like paper, is in sync with the Central Government's ban on poly-base materials.
With the new academic session to commence soon, Globus decided to execute a fun and young window to promote their denim merchandises. Executed at all 39 stores, the window scheme presents artistic installations for both men's and women's windows, while the former presents paper aeroplanes and the latter paper butterflies. The entire window planning was done to support the Government's recent move to ban the use of plastics and other poly-base materials and hence, paper was the chosen material.
Explaining more on the brief and idea, Amit Shanklya, Chief – VM, Globus Stores, spoke to Retail4Growth, "The free-spirited window theme has playful props – Butterfly and Airplanes that bring the mood of classroom fun into the window. The theme is sophistically supported with simple communication that states – Flying Blues.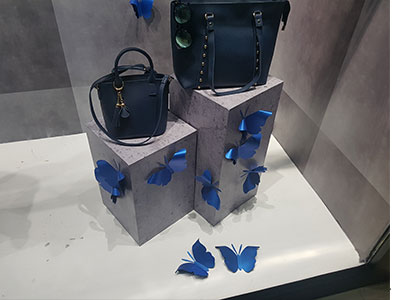 Colour blue is well connected to the principal colour of denim as a silhouette denim and sets in the right ambiance by welcoming monsoon. The window installation also involved our store team in building the entire window, as the props were sent to stores in half ready format and rest were to be finished at the store level."
Execution: Infinite Solutions Pvt Ltd, Mumbai