Gulf Engine Oil goes on-ground to engage with consumers
By Satarupa Chakraborty | November 10, 2017
The on-ground activities are aimed to educate the consumers as well as boost the brand's lubricant variants' campaign involving engagement and interaction with the brand.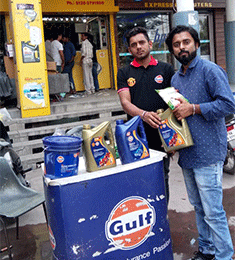 In a bid to augment visibility, Gulf Engine Oil, a Hinduja Group Indian Company has recently conducted some on-ground activities for their lubricant products at garages and retail stores across India including rural areas. Gurgaon-based Brand Street India has executed these activities at multiple locations promoting the lubricant support for vehicle engines.
Currently, Gulf Engine Oil has a number of engine oil related products floating in the market. The on-ground activities are aimed to increase the effectiveness of their sales, along with creating a valuable consumer interaction and engagement to help build a positive brand image. The initiatives included deploying a majority of their volunteers briefing the consumer about the product range and also offering them a gift scheme -a car perfume, with their purchase.
Brand Street India is also handling inventory management, pre and post sales reports

compression, mechanic meeting for sales improvement and consumer feedback for Gulf Engine oil. Furthermore, they are using this platform to identify future buyers even in the absence of recent intent in order to improve brand awareness as well. This campaign will be carried out throughout the month of November, 2017. Surendra Singh, National Head, Brand Street India said, "Gulf engine oil has a rich heritage of 100 years and a global recognition with millions of trusted consumers. In order to drive revenue growth for such a huge company, it is imperative that the sales team ensures personalized engagements with their prospects and customers. This is exactly what Brand Street India is delivering by driving this campaign. This is indeed a prestigious feather in Brand Street India's cap."
Rajesh Dogra, Senior Manager, Rural Street, "We at Brand Street India are proud to support and further build on our strong relationship with Gulf Engine Oil. We are confident that our association will help us showcase our strategic brilliance which will bring to light the true essence of not just one but both the brands." Brand Street India will also be holding these activities in association with a number of housing societies within the city. At special kiosks designed to promote Gulf Engine Oil, the present volunteers will share informative insights regarding engine oils with the residents of the society as well.