Max Kids Fest: Fun, Frolic & Carnival Spirit
By Satarupa Chakraborty | June 01, 2018
With a tradition of hosting an annual carnival at stores during summer vacation, Max unveiled its Kids Festival 2018 through VM representations ranging from shop windows to in-store events. The VM schemes used life-sized frames, animal cutouts, bulb-studded star cutouts, carnival canopies and a splash of bright colours
Following a tradition of hosting Kids Festival at stores every year during the vacation time, the leading LFS brand from Landmark Group, Max spells an ambience of carnival through in-store events and VM representations.
In the window, life-sized kids' frames with flickering yellow bulbs were installed, while striped canopies with a light wash were added on either side of the visual frame to add to the theme. Cartoon rendering of animals were planned for different activities. The activities included singing, dancing, and drawing, monkey with the lit-up juggling balls and the bear trailing the cart reverting with the rewards.
Select stores were treated with additional drama such as the Phoenix store in Bangalore had a ferrous wheel and a carousel with carnival string lights suspended from the ceiling.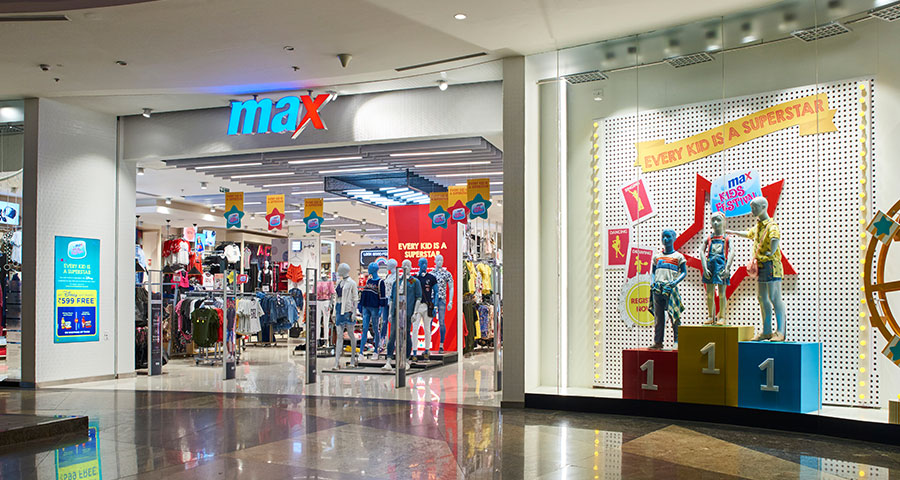 The bright colour palette has been chosen very carefully for this window. While the visual was of quite a mixed palette, it was important to keep the surrounding space very balanced and yet not muted. The primary colour story with sunburst red backdrop, yellow blue striped canopies and halftone circle wall were used to create a playful yet not graphically cohesive setting.
Diversity in material usage to maintain the authenticity of the carnival theme was important. Sequential lit bulb around the frame and the monkey to create the drama in the available space. Canopies were made with flex to create the effect of a carnival tent. In the special window, the lights on the frame moved into string carnival lights. The concept was carried in-store with a selfie booth which had a large-sized star studded with bulbs. The concept was reinstated with instore collaterals from entrance to the trial room.
Harshendra Maheshwari, National Head – VM & Phygital, Max Fashion, said further, "Creating cost-effective yet impactful window display has always been a part of every project that Max VM team is known for. Delivering exceptional experience for a Fashion Value Brand is definitely a challenging task for us and we always have to figure out new elements and techniques to achieve timely execution across 80+ cities for all MAX stores."
Execution:
Supra Digital
Shrishti Creation
Sign & Display