Phoenix Marketcity uses art to highlight the need for"œCar Pooling"
By Nabamita Chatterjee | Vjmedia Works | August 29, 2016
In-transit is not just an Art Installation; it's the mirror to society. It talks about present conditions and future situations if we do not start using methods like car pools to address the problem.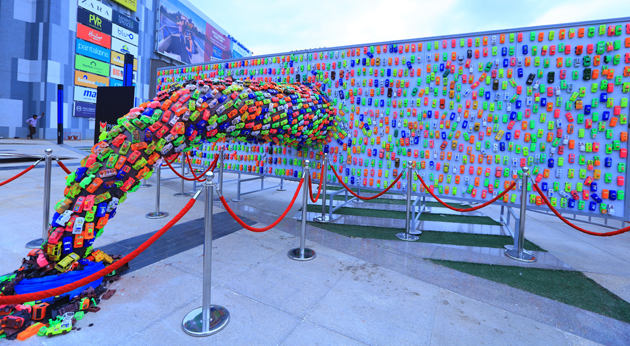 Phoenix Marketcity, Bengaluru's shopping and lifestyle destination launched two public art sculptures crafted by Amarnath Sharma to create awareness about the importance of Car Pooling.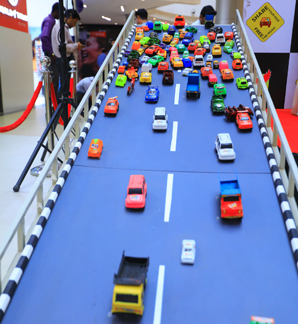 Both installations "In-transit" & "Make Over" are 30 feet x 12 feet and 12 feet x 4 feet in size respectively. The public art installations will aim to do two things - one, use the power of art to send subliminal messages to people who come into contact with it and reiterate the importance of car pooling and two, have the potential to become landmark installations in Bengaluru and bringing art to the public. These art installations have been curated for Phoenix Marketcity by Sachin Kaluskar and developed by Baroda based artist Amarnath Sharma.
Gajendra Singh Rathore, Centre Director said "Phoenix Marketcity, Bengaluru constantly tries to create awareness on various social causes and environmental sustainability initiatives for its patrons. Being one of the best shopping and entertainment destination, we believe in promoting causes which require immediate attention. We have always favoured the artistic route to do this and are happy to contribute to raising public consciousness wherever we can."
Sachin P. Borpade, Assistant Commissioner of Police-Traffic East, said, "Traffic Jams are a common scenario in Bengaluru and other metros. Along with being inconvenient to the public, frequent traffic jams also cause huge dents in our pockets and on the environment. Carpooling is one of the ways in which people can benefit both as individuals and the community as a whole. We are delighted with the initiative from Phoenix Marketcity where art is being used to send the message to their large customer base."