Purple floral muse for Vero Moda
By Satarupa Chakraborty | November 20, 2018
The brand's new Purple Garden window scheme has been executed at 32 select stores.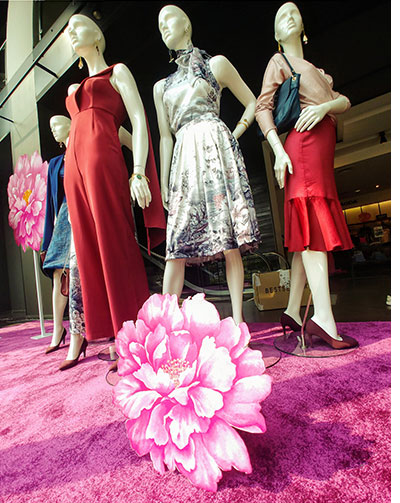 Vero Moda recently promoted their collection Artist Muse (part of the recent offerings 'Marquee') with a new window and in-store VM display scheme based on the theme 'Winter Purple Garden'.
The scheme features life-size floral displays that are enhanced with the right lighting effects. The scheme has been executed at 32 select stores of Vero Moda.
Explaining the idea behind the VM plan, Nuno Rosa, Head of Visual Merchandising & E-Commerce and Styling Manager at VERO MODA, INDIA, told Retail4growth, "An artist is incomplete without his muse. What is outside is in stark contrast with what a muse can invoke him to create. This collection captures this very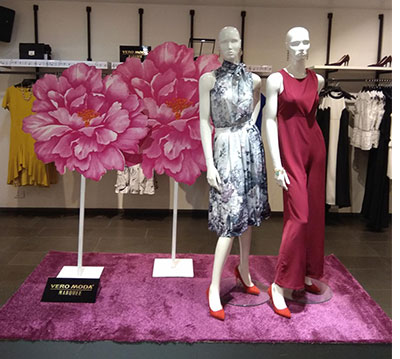 aspect and carefully translates that into a collection of clean and minimally colour blocked solids with masterpiece detailing hidden from direct view."
Representing this idea are attention grabbing floral structures with their central pollen part designed in acrylic base and adorned with lamp fittings. The materials used are acrylic base printed with a floral design that is in line with the collection. The support structure is a metal stand that holds the two differently sized flowers at eye level. "Given that our window flooring is in grey and other darker shades, I've added a luxury purple thick carpet that adds the right tone of luminosity and value to the full concept. To distinguish the Marquee collection window from the others, an acrylic logo has been placed on the floor base with black and gold lettering that names it," Rosa added.
Execution: Brandmela, Mumbai.
Similar News
Vineet Gautam, CEO, BESTSELLER India, who has over 19 years of experience in retail and marketing, will speak on 'Fine-tuning International Retail Design ID for India' at ISA, 2019.