Roots & Herbs unveil eco-friendly kiosk at Quest Mall, Kolkata
By Nabamita Chatterjee | Vjmedia Works | November 27, 2015
Look Design Hub, conceptualised the kiosk and have used eco friendly, non toxic and biodegradable materials which represents the brand's objectives.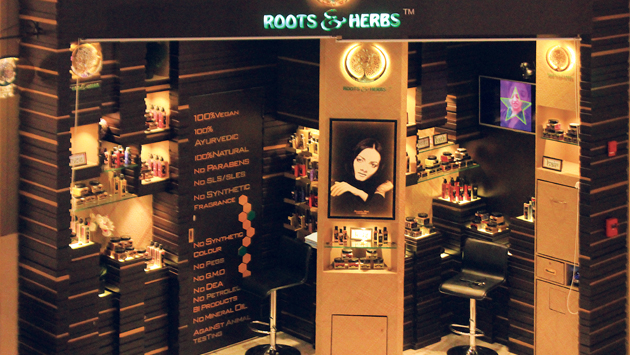 Roots & Herbs, the natural beauty products brand, recently launched their retail kiosk in the Quest Mall, Kolkata. Keeping the ethos of the brand in mind, Look Design Hub, the agency which conceptualised the kiosk have used eco friendly, non toxic & biodegradable materials which represents the brand's objectives.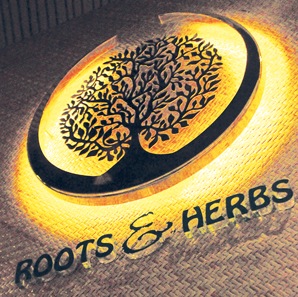 Akanksha Modi, Owner of Root & Herbs shares, "Being our first store in a mall, the impact on the brand is exactly what we wanted to portray as a "premium ayurvedic indulgence" ! We are planning to start with two more stores in other most loved malls, surely keeping this design as our brand identity."
Sarbajit Dhar, Principal Designer for Look Design Hub, informs, "The brand wanted a kiosk which will be equivalent to a store and the same time it must have some natural elements. Since the USP of Roots & Herbs is 100% Ayurvedic, 100% vegan & 100% natural, we wanted to give a spa kind of look and feel to the store, so we tried to mimic the mdf strips on our wall panel to natural stone slabs along with the usage of all natural materials like jute strings for ceiling,'shital patti' as backdrops keeping the store colour very natural. The challenge was to utilise every corner of the 35 sq. ft area to the max while having maximum storage space and utility. Though it is a very small space, we have achieved to design a complete store along with a stock room. We have really worked out in detail so that we can use every inch of space for display."
Dhar further adds, "In our design we have used two products which provides natural look of the store. One is Shital pati another one is jute string as ceiling structure. Shital pati is a variety of natural fibre that has natural cooling properties. It is made from cane or Murta plants (Clinogyne dichotoma).The murta plant grows around water bodies, Sital Pati is woven as a sheet to be used as a bed cover. This product is hand crafted fine textured mats made of carefully selected reeds with beautiful geometric designs, we have used this as a cladding elements of display area. We created a MS structure on the top and tied it end to end with Jute, which is a very versatile and eco-friendly material, especially the jute strings. This idea is inspired by people in some rural areas of India where Jute is used from kitchen utensils to furniture and many more. Entire store wall has wooden strips in different levels which has been finished with coffee colour duco and golden colour highlighter, where display stands have been placed in different level so that each product segment can be highlighted."
The response has been overwhelming, where people stop by to take selfies. "We already have got a tag of the best kiosk store in Quest mall!" signs off Akansha Modi.