Titan: Light Yet Captivating
By Satarupa Chakraborty | June 15, 2018
To promote the feature of lightness of leather straps, Titan has put up life-size installations of their newly launched Classic Collection. MDF cutout with vinyl have been used to make dials while real leather has been used for the straps.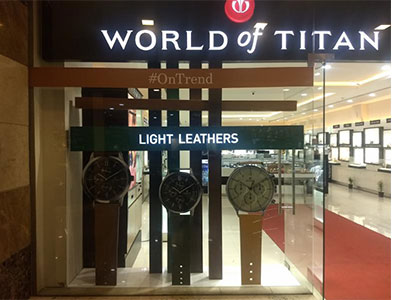 Titan's latest VM campaign, promoting their classic collection, showcases life-size installations of multiple watches. The VM scheme has been executed at all key World of Titan stores across metros like Delhi, NCR, Bangalore and Mumbai.
The window has been designed keeping in mind the features like light leather straps and trendy look that make the Classic Collection suitable for young consumers. For life-size watch installations, real leather has been used in straps while dials are MDF cutout with vinyl.
Execution: Ozeca, New Delhi