W brings drama to its festive windows
By Satarupa Chakraborty | December 13, 2017
W's Festive Drama window speaks of royal settings translated through gold foliage, swirl fixture, Mughal lanterns and rich golden hues.
TCNS's ethnic wear brand, W has recently launched its Festive Drama campaign window to showcase the royal character of its merchandise. The window uses motif-inspired hangings, swirl and rod revolving base along with other props like paper flowers, lamps etc. The window character ran through its in-store visuals and props. Aarti Ahuja from W, mentioned, "It was a path-breaking campaign for W in many ways to take the brand's understated minimalistic take to a dramatic shift.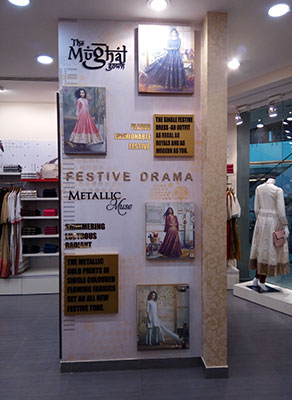 W decided to take festive fashion to a new paradigm. The season was all about bold colours, flamboyant silhouettes and a feel of royalty in every fabric and style. The Mughal gown with its royal flounce and dramatic silhouette became the talk of the town, as Metallic Muse continued to bedazzle the festive season with its innovative treatment of gold. And that's how the two trends took over the conversation."
The window used materials like printed canvas, acrylic, iron, handmade papers etc.
Execution : Fictive Clan and many other agencies