A Season Of Cliches
By Chanda Kumar | May 17, 2018
The mundane floral or foliage theme seems to rule many store front windows and in-store visual campaigns this spring. Creating emotional connect with this effervescent season or taking inspiration from global runway trends seems to have skipped the Indian visual merchandisers' radar. Let's take a look at what has put a stopper for this community from exploring Spring in new ways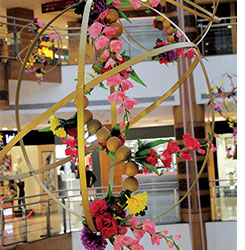 The idea of spring and beginning of summer season brings in a burst of memories all the way from freshman years in college, infatuation to young love, playing on the streets to gorging on mangoes & ice-candies and vacations. These small yet significant factors that bring joy to each of us, seems to have skipped the visual merchandiser's eye. But isn't retail today all about evoking emotions and connecting with the customer? The story of spring has stood still with the floral & green foliage theme.
While spring definitely means the rebirth of flora and fauna, it also means you can embrace something new. Spring can mean - fun in the sun, enjoying outdoors, water sports, warm breeze & tropical showers, migratory birds, insects, children playing outside, Indian wedding season, holidays or the beach.
The World View
Spring is a time for celebration in the retail world, ranging from Easter eggs to New York Fashion Week. This year we saw a myriad range of window campaigns. Nothing flowery about it! Ted Baker created a quirky spring onion window display with characters where Millington Associates installed 67 hand sculpted and painted spring onions across 21 stores. While, Michael Kors unveiled the spring horizon windows, where printed high quality vinyl depicted the blue ocean, while bespoke surf boards displayed the merchandise. And from the land of the rising sun, Issey Miyake's window highlighted the three-dimensional form of Steam Stretch fabric which is flattened out in the printing process, which is an original material of ISSEY MIYAKE. Strips of this are stretched vertically to reveal hints of the base fabric color overflow from the shadow of the folds, creating a beautiful visual effect. The installation focused on this feature of the textile.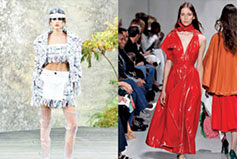 Missing Fashion Cues
This year, the world of fashion unveiled a kaleidoscope of colours, materials and textures. The spring fashion trends of 2018 came out with a great set of concepts on the runway. From rubber to transparent plastics, glitter & sparkle, fringing, revival of the black & white polka dots to the vibrant spectrum. There were all great cues from the world of fashion, which was amiss in the Indian visual merchandising landscape.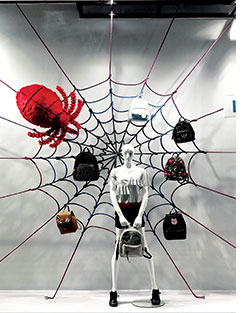 What's Holding Them?
Speaking to some visual merchandisers from leading brands across India, I came to know that flowers are the popular pick as it is easy, safe, tried-n-tested, quick execution, instant connect to customer and adhering to instructions from the senior in the department. And a common factor voiced by all is that - Floral rules the Indian merchandise line for spring! While its a shame to see the theme interpreted in its literal form and proportion, while some brands have evolved to alter and bring in some abstract forms.
However, its unfair to say that creative interpretation of spring is completely cliched in Indian visual merchandising campaigns. We spotted few good windows, depicting concepts such as colourful street landscapes, spider web, deck of cards, sea turtles, bugs and more.
All we can say is that, we can surely see stellar displays when the VM community steps out of the comfort zone, explore the new and take the road less travelled. Creative disruption is the need of the hour.
Related Viewpoints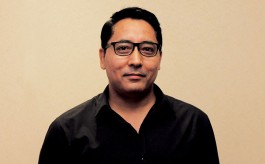 Chief Design Officer, Future Group India Ltd
'BOPIS' is here to stay, but are we ready?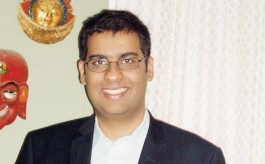 Co-founder and Partner , FAT
Why has shopper marketing failed in India?