High on the young
By N Jayalakshmi | November 25, 2012
In a chat with Point Of Purchase, Samar S Sheikhawat, Senior Vice President, Marketing, United Breweries Ltd, shares his thoughts on the brand approach to retail, the changing shopper dynamics and connecting with them, and a lot more…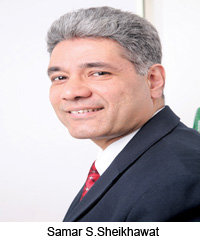 Q. To begin with could you share with us your whole approach to retail
We have a distribution network and retail business relationship which is the most robust, widest and deepest compared to any alcoholic brand in the country. Along with our sister UB Spirits we have a dominant leadership position in retail, whether it is on-trade (where the product gets consumed- Eg- pubs, restaurants, five star hotels etc)
or off-trade where products do not get consumed but only bought (traditional trade and modern trade outlets). Our approach has been to dominate both off -trade and on-trade in terms of physical availability. So, physical distribution is the number one factor.
The next is the chilled/ cold storage stock availability.
The parameter we go with for it is what we call the chilled stock share. The key is to make sure that the retail stock share and the cold storage stock share are maintained at the required levels.
The third factor is combining storage and visibility. And the fourth factor is of course the use of merchandising aids including permanent POS,
semi permanent ones such as shop front POS like sunboard or temporary ones such as posters, danglers etc. Our idea is to dominate every section whether it be on-trade or off-trade covering all geographical areas with the hierarchy of products clearly displayed. So we follow a plannograming for the cold storage visibility and follow a strategy for the visibility and stocking ratio of strong and mild beer. For example the ratio of strong to mild beer has always been 85:15, though it may be different in some case. So a lot of it is customized at the store level.
When it comes to retail in this business, the point is that the government controls the liquor business and each state has a different model when it comes to distribution. So we go to the market, make sure product are available and get them displayed. This is one of the reasons why we have the visi-cooler purity programme to make sure our visi-coolers stock only our products. Our visi-cooler purity is one of the highest at 90%
Q. Could you elaborate a bit more on customization ?
Each market has it own dynamics. Delhi for example, is much bigger but has very few liquor outlets. Bangalore which is smaller, has a lot more outlets. But also in Delhi each store sells many times more than in Bangalore. Moreover Delhi is much hotter and therefore cold storage is a must there. We thus plan the strategies accordingly. We have a team to check and replenish the stock. So it's really a 360 degree approach.
Q. What have been the challenges you faced during the process of having a strong distribution and visibility system in place?
The main challenge is that the look and feel of retail is still the same. In some cities like Bangalore though this is changing with more MT formats stocking liquor, but generally it varies across different regions. So this requires our sales persons to have the right set of skills to approach and deal with different kinds of people. Also, given the limited number of outlets compared to other business , the volume of sales from each store is higher. So the challenge is to have the right manpower infrastructure to travel across the geographies and deal with different kinds of distributors - from the top end to the low end.
Q. How challenging is to find vendors / partners to handle in-store visibility?
That is not so much a challenge since the approach is closer to the FMCG industry which already has a system in place. Historically this industry is not allowed to go beyond events, promotions etc. So retail is the key driver and where visibility is concerned, there is a skill set we have already developed. It's a given. And most people who are associated with us stay for a long time whether they are partners, employers, or vendors etc. This is a business that needs a lot of understanding. It takes years to develop the right mindset and skillsets and once developed, and this is also a segment where skills get rewarded.
Q. How equipped are retailers in terms of offering informed guidance to shoppers where liquor, especially wine, is concerned? After all, this affects your brand ultimately...
Retailers are smart. A small store owner selling liquor will probably know a lot more about wines than we expect and he also knows his customers well. But in the case of MT, revenues from liquor is only about 10 to 15% of the total revenues . The margins are not high. There the main revenue comes from vegetables, fruits and groceries. And for MT, liquor is less than 2%, so the prirority there is not very high. But the situation will change and once it does, there will be more retailer training programs and seminars.
There is also change on the part of buyers and the buying is getting closer to FMCG buying. More number of women now buy liquor and consumers ask for specific brands and buy 6 packs. There is greater awareness. So yes trade has to change the way the consumer mindset is changing, so our sales team in turn has to match that.
Q. What does the new FDI policy mean to you as a top liquor brand?
The FDI policy is a classic case of too little too late. First of all, where is the space and the land to put up new MT formats? Also, doing business in India requires an understanding of the system here. MNCs will think twice before entering as questions still remain regarding the commitment of the government to the policy, the clearance from the state, the laws, the land issues, etc. You see in India, organized retail in lifestyle and apparels happened much before it happened in groceries, while in the rest of the world, it's been the other way around. There people had gotten used to buying groceries from the supermarket stores much earlier. But here we are still not that comfortable buying veggies and fruits from MT. The neighbourhood kirana offers more conveniences. So there are too many dynamics at play and a lot more needs to be done than just clearing FDI. Retail is not even recognized as an industry as there is no contemporary Retail Act. But on our part we are keeping our ears close to the ground because organized retail in liquor is developing at a different pace in different places, so we are keeping a close watch on it. And we are already beginning to intervene through lovely FSUs, and exclusive people to serve those chains and a greater focus on investment in promos, activations, visibility etc in those places. We are also looking at consumer feedback to improve the quality of people coming there.
Q. Of your marketing budget what % age is spent on retail?
The total spend on retail including on-trade an off-trade visibility and activations would be 35-40% .
Q. What is your focus on shopper study?
We do a lot of work with companies such as Nielsen and have a robust research team gathering a lot of consumer and shopper insights. We commission studies once in 2-3 months and some of them are very specific. At any given time we have about 5-10 studies going on.
But these are still early days, as MT facilitates these studies in a much better way and that format itself is small. We are nevertheless doing some good research there.
Q. What are the changes that you see based on these research insights and how do you weave them in your activations?
Over the years we see some changes in terms of consumer expectations, familiarity with multiple brands, purchase drivers etc. We find that price is increasingly not a deterrent. Also, younger people today are not afraid to experiment. So some of the consumer psychographics are changing and we keep studying other industries too. For eg, we found that the average age of a Mercedes buyer in India today is 34! So aspirations in the younger consumers are much are higher. Also smaller towns are spending more on luxury brands and pubs and there they have lot of aspiration with not enough access. Our growth is very robust in smaller towns.
Based on all these, we have a robust digital marketing programme on social networking platforms. We are the No 2 liquor brand in India on Facebook, and the No 3 beer brand on Facebook. So with digital we have doubled the budget. We are also looking at mobile platforms and such devices of the future though at present we are not allowed to do e-comm, but once that changes, it would be a win.
Q. Finally, how do you maintain your USP given the increase in competition?
The challenge is to keep the Kingfisher brand relevant, dynamic, refreshed and focused as far as the new and younger demographics are concerned. They don't want to drink the brand that their father drank. So, all our marketing activities are geared towards that
Related Viewpoints
Managing Partner, Geometry Encompass, Mumbai
How FMCG brands can leverage technology to enhance in-store consumer engagements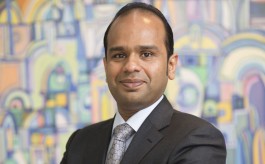 Managing Director, Tablez
'Human resource is one of the main challenges'