Lady Baga: For all things Goan!
By Chanda Kumar | May 20, 2018
Lady Baga brings Goa alive through an exciting multi sensorial dining experience where guests can not only enjoy the lip-smacking Goan cuisine, but indulge in the Goan shack ambience through the five senses.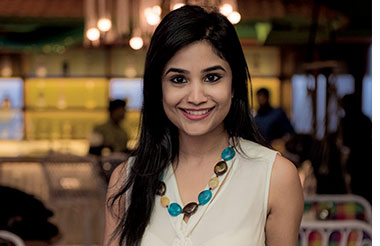 Trips to Goa evoke a sense of nostalgia among most millennials (19 -35 yrs), and even for the generations before that. A concoction of all things good, Goa reminds us of unhurried & laid back days, free spirited vibe, friends, music & dance and not to forget the food.
Olive Group's latest venture Lady Baga with its presence in Delhi, Bangalore and Mumbai brings together the best of things from Goa - all under one roof. Reminiscing the good old yeas of Goa in the 60s & 70s, Lady Baga loves to call itself a hippie style beach shack complete with the flower power ambience, nostalgic music such as The Beatles, the flea market ambience, sand & sea of the legendary Baga beach of Goa. Lady Baga is presented by restaurateur AD Singh of the Olive group and Deepti Katragadda Das.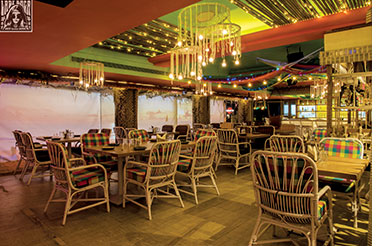 From deck beds & hammocks on sand, to a vintage van in pop colours, graffiti, dream catchers, laid back seating, sound of waves and a great view of the Baga beach through the projection on the wall, recreates the joy of being in Goan beach shack.
Speaking about how storytelling is vital to standout in the F&B space today, Deepti Katragadda Das chatted up with VM&RD recently, sharing the company's expansion plan, the importance of reinvention in the restaurant business and more.
Tell us about how Lady Baga was conceptualised.
Goa has always been very close to AD Singh's heart and we wanted to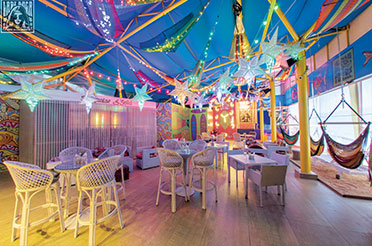 get into regional cuisines.
Lady Baga began its journey last year in Delhi, where we wanted to do Goa in a really hippie 60s model with the flower power vibe. We didn't want to serve authentic Goan food, but be a Goan beach shack. So we never call ourselves a restaurant.
Lady Baga takes on a multi sensorial approach to the design of the space. Can you tell us more on how this came up?
The structure of the space was done by AD Singh and me, we have Sabrina Singh who is AD Singh's wife and design head. A lot of our restaurant designs are finalised by her such as SodaBottleOpenerWala
and Olive Bistro. As for Lady Baga, the idea stemmed from the fact that we are in the middle of a concrete jungle, so how can we give them a beach vibe? It can't be just music or interiors, so we got water bodies for the sound of the waves and the view of the ocean was very essential to complete the multi sensory experience. The concept was built on over a period of time.
While a concept like this can entice guest to try it. How do manage to get repeated clientele?
The first time a customer comes to Lady Baga is wowed by all this, where its the ambience attracts them. But its only the food that can bring them back again. We also indulge in old school music, which is not played in many places, and customers love it. We also host some great events Bringing them back is involves multiple factors.
Olive Group has some very well-known brands across the country. Tell us about the importance of reinventing the offering to attract customers?
In the restaurant business, we always have to keep reinventing ourselves. Even if its a hit, people come back if something new and exciting is happening. We keep doing different things. The life span of a restaurant is 7 years, and then we need to overhaul the entire thing from ambience, food to everything.
Tell us about the expansion plans for Lady Baga.
Right now we want to focus on Bangalore, Mumbai and New Delhi. We opened three Lady Baga outlets in one year, so its fast growth in this business. We want to focus on all our brands. But maybe in the coming few years we will be be opening few more Lady Baga outlets. I think our focus for the next 1-2 yrs is to not open any more brands, but build and expand the existing ones.
Related Viewpoints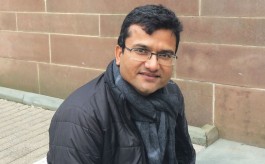 Head VM & Projects, Arrow, Arvind Fashions Limited
'Prefer vendors with capability for end to end completion'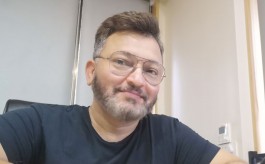 Owner, NEGI SIGN SYSTEMS & SUPPLIES CO .
'Operating costs are growing, but margins are shrinking'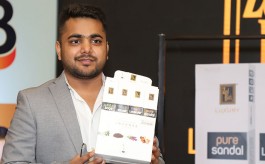 Director, Zed Black - MDPH
How this Indore brand follows the scent of success