Manpasand Beverages: Eyeing Bigger Retail Share In GT!
By Nabamita Chatterjee | June 12, 2018
With its products available in over 20 states of India through more than 400,000 retailers, over 2500 distributors and 250 plus super stockists, Manpasand Beverages is planning to scale up to new heights in the beverage category in both general and modern trade. Recently for their retail distribution in GT, they have tied up with Parle Products for their new flagship brand "Mango Sip Gold". Abhishek Singh, Director, Manpasand Beverages chats up with Nabamita Chatterjee of Point-of-Purchase magazine and shares more about their retail strategy ahead. Edited excerpts…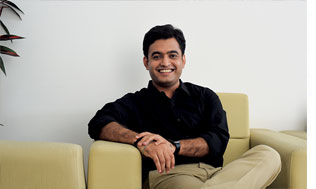 Manpasand Beverages tied up with Parle Products for Western markets and completed eastern market distribution recently. What was the objective behind this joint venture?
The core strength of Manpasand Beverages has been the company's strong distribution network across India and its presence in the rural and semi-urban markets. Further, we have embarked on a path to create innovative beverages, which are not only affordable but also nutritious.
In this context, we have tied-up with Parle Products, makers of Parle G, to increase our footprints.Manpasand Beverages will have access to Parle Products' 4.5 million outlets panIndia for the flagship brand "Mango Sip." In this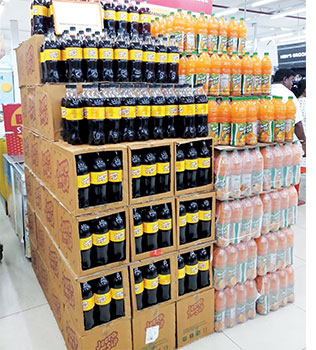 association, both companies will cross-promote their brands. We have just concluded the pilot phase of the said partnership in eastern region of India where around 2 lakh outlets of Parle Products have been roped in by Manpasand Beverages. We have introduced a new packaging for Mango Sip, "Mango Sip Gold," for this partnership. Under this association, Parle G packs and Parle's Wafers will be offered along with Mango Sip's various SKUs. Now, in the phase 2 of this joint distribution will take place in western markets.
How do you position your brands and products effectively in general trade stores, which are cluttered?
One of our key strategies has been leveraging retail distributor relationships apart from other marketing strategies. The company offers a scheme to distributors and retailers to purchase cooling accessories such as fridges and iceboxes at discounted prices to create value. These accessories prominently display the company's brands and provide a primary marketing and point of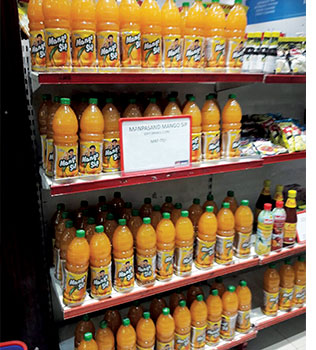 sales branding platform. To establish ourselves we also focused on building a strong relationship with distributors and providing them with incentives. On a daily basis, we host 10 of our distributors with their families at our main plant in Vadodara. And this has definitely paid off in terms winning their trust and business. Today, Manpasand's brands are present in 24 states through more than 400,000 retailers, over 2500 distributors and 250 plus super stockists.
Can you share an example of innovative POP branding campaign for Manpasand Beverages?
To appeal to a wide range of customers, we introduced PET and Tetrapack in various SKUs and at affordable price points. For our various brands at GT, we use colourful posters and danglers at the POP to entice the customers.
What are the key considerations for deciding on POP elements for design and deployment when it comes to general trade?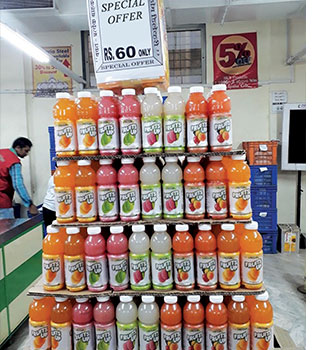 General trade outlets usually have space constraint and lot of products at their disposal. It is important for a company to first understand a retailer's needs and then offer POP accessories that can add value to both the brand and the store. While in some cases aesthetics works, in others accessories or complimentary items are preferred. So, it depends on the stores and the type of consumers we are targeting as a brand.
Related Viewpoints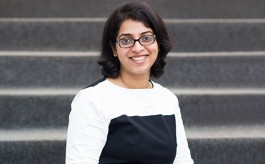 Founder and CEO, FableStreet
'Business model innovation is core to our USP'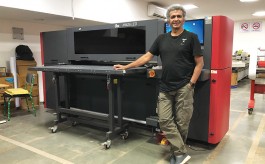 Founder and Director, Jayna Packaging
'Sustainable communication is about a well-designed concept with intelligent choice of printing materials & process'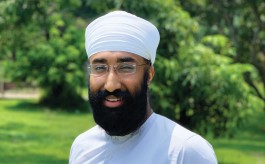 CEO, Simpli Namdharis
'We need to view sustainability from business & value chain angles'