A new shopping trend emerges as malls get a 'local' flavour
By Akhil Almeida & Naina Jayarajan | Vjmedia Works | January 20, 2014
Malls across India are struggling to attract shoppers in a phase of slowdown; many have even shut shop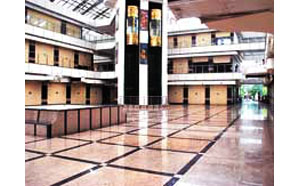 Move over foreign brands;'local' is the new buzz across the country's shopping
malls
. Traditional standalone high-street silk and textile chains from the South, such as
Nallis
,
RmKV
,
Naidu Hal
and
Kalaniketan
, besides jewellery brands like
Malabar Gold
and
Kalyan Jewellers
, are making inroads into malls. Besides, stores spread across popular marketplace, a hunting ground for attractive bargains, such as Delhi's Chandni Chowk and Lajpat Nagar are also booking mall space to tap trendy shoppers.

While Nallis, RmKV and Naidu Hall have already entered several malls in Chennai and Bangalore, retailers from Chandni Chowk are set to be part of Gurgaon's DLF Mall from July. Among other brands, Kalaniketan, Malabar and Kalyan have already entered Hyderabad's malls.
"With malls struggling to retain customers and big retailers, the big thing happening now is the entry of local retailers in this format. Developers need to value local retailers to make their malls successful," says Shubhranshu Pani, managing director (retail), Jones Lang Lasalle India.

Fashion wear stores Kapil & Monika and Kapsons from the North and Cocopelee from Bangalore are among 30-odd names that have entered malls in recent times or are preparing to do so in various cities.
Anand Sundaram, chief executive officer, Pioneer Property Zone (PPZ), a mall management firm, says, "Traditional brands that used to operate at a single-store level are now on an expansion spree, especially in South India, where retail market is different, probably much sharper." Traditional, as well as local brands have started moving into malls and this will emerge as a big trend by the end of the year, he adds.

Amid a demand slowdown, malls across India are struggling to attract shoppers; many have even shut shops. Over the years, there has been a substantial increase in space taken by malls. But only a few have been successful. A leading Noida-based property developer says: "We need to adapt to changing times. Preferences of people are changing. Malls are no longer just about shopping, we need to offer more to attract people, especially youngsters."

On the other hand, local retailers have realised that customers want a good ambience, combined with other facilities — a standalone shop may not be able to offer that.

Sanjay Dutt, executive managing director (South Asia), Cushman & Wakefield, says developers are now looking at conducting flea markets and inviting unorganised retailers to give a local flavour to shopping centres.

To attract customers, mall developers are announcing, with retailers' consent, offers like "all shops on 50 per cent sale" day. Under this, all shops in a mall offer sale on a particular day. Another trend is offering discounts on a typically low-footfall day (weekday) to a specific section of a mall — Mumbai's Growel Mall, for example, has introduced Thoosday, where the entire food court offers sale on Tuesdays, Dutt adds.

Pushpa Bector-senior, vice president (leasing & mall head), DLF, says the success of a mall depends on three factors — whether the developer has sold or leased the mall and the kind of revenue-sharing agreement it has with the retailers; whether it is designed to attract all retailers and garner appropriate visibility; and the type of catchment area. "If you have built your mall at a location where you can't get potential buyers, the project will definitely face trouble."

JLL's Pani says: "Mall management is a dynamic process. One needs to ensure for customers good ambience, proper parking space and promotional events, besides taking feedback from them."

One of the major reasons for failure of certain malls is poor design; this results in dead spaces. Some developers have eliminated alleys or narrow passages that a mall's inherently poor design results in and have merged those with existing stores, says a JLL note.

Also, there's greater emphasis on directing footfall traffic along the mall's entire floor scape, providing parity and frontage to all stores. Some mall developers are even introducing first-time brands or attractions in the extreme ends to encourage shoppers to stroll through these areas, the note adds.

Further, there is an increased focus to connect with customers through social media websites. Entertainment formats like 5D theatre, horror houses/magic mirrors, joy rides, toy trains, apart from multiplexes, are also coming in handy.