After Amazon caution, Biyani calls for clarity on retail laws
Vjmedia Works | October 31, 2014
Amazon had said it sees'substantial uncertainties' in interpretation of Indian laws, which could impact its business in the one of the world's fastest-growing multi-billion dollar online shopping market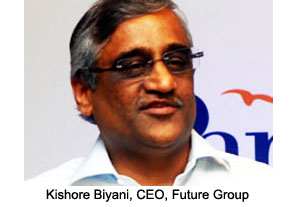 A day after American e-commerce giant Amazon expressed concern over "substantial uncertainties" in interpretation of Indian laws in a regulatory filing to the US Securities & Exchange Commission, Kishore Biyani, Chief executive officer (CEO) of home-grown Future Group, sought clarity in retail sector policy. Sources in Amazon's India office however indicated the company was here to stay and that too much was being read into its regulatory filings.
"The laws are very ambiguous for both physical and online retailers. Multi brand retail is quite a faulty word as it does not exist anywhere else in the world. In e-commerce, most players have gone for the marketplace model,.... but I think we need clarity," Biyani said.
Future, which recently tied up with Amazon in India to sell its fashion and food products exclusively on the American giant's marketplace platform, is looking at a gross merchandise value of about Rs 6,000 crore in the next three years from the venture.
On Wednesday, Amazon had said it sees "substantial uncertainties" in interpretation of Indian laws, which could impact its business in the one of the world's fastest-growing multi-billion dollar online shopping market, in its SEC filing. The statement is of significance as this is the first time Amazon has spoken out about difficulties in operating in India. The company has been expressing concern over China regulatory environment for long in its filings.
Amazon CEO Jeff Bezos, during his recent visit to India, had said his company had not encountered much difficulty in doing business in the country. When asked specifically about the taxation issue in Karnataka that ecommerce companies including Amazon were facing, Bezos had said every country has its unique environment and that Amazon must embrace that to innovate and grow. He had added that Amazon was a long-term player and was here to stay. Bezos had also met Prime Minister Modi before flying back to Seattle.
Sources in the company said Amazon had made a mention of India in great detail in its filings for the first time because of the significant investment it had made in the country. Amazon recently committed an investment of $2 billion in India.
Even as foreign investment is not permitted in e-commerce in India, all major online players in the country are modelled on the marketplace format and funded by overseas companies. Marketplace format is seen as a technology platform hosting retailers, and there's no FDI restriction in this category.
Amazon, eBay, Flipkart, Snapdeal, Myntra are all marketplace players.
Amazon India told Business Standard on Thursday that "India has been covered as part of our International Market Segments in the Risk Factors section'', talking of the regulatory filing. The company statement added, ''given the rapid growth and announcement of substantial investment, we called out India explicitly for the first time this quarter."
Recently, French retail chain and the second largest in the world, Carrefour exited the India market, due to what it found tough laws. American retail chain Walmart had earlier said it found it difficult to comply with India's policy and subsequently parted ways with its Indian partner Bharti. Walmart operates cash and carry (wholesale) stores in India. Cash and carry allows 100 per cent FDI.
"Our rules have to be much much clearer and transparent and understood in the way it has been written. I think whoever writes it and whoever understands it, both have to be at the same wavelength," Biyani said, adding the euphoria over e commerce in India will last only till the next 6 to 18 months and the real picture would emerge after that.