Agenda 2014 ...
By Fairy Dharawat | Vjmedia Works | January 17, 2014
Point Of Purchase spoke to a few retail solution providers who share their plans for year 2014 and talk about what the year means to them.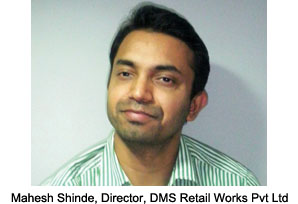 Mahesh Shinde, Director, DMS Retail Works Pvt Ltd:
"We are looking to expand our facility to 35000sq ft. We plan to pull in more processes in house and looking at consolidating under one roof processes such as printing and thermoforming which take time and cost. We are already doing good quality work with top brands and we plan to go for expansion and increase our clients list. We are also planning to explore more categories."
Aniruddha, Director, Pyramid Retail Services:
"We want to advise and guide our clients strategically to improve their overall visibility. We know our brands' requirement and we want to create a strategy for 2014 the way we did with our brand Rasna."
Ragesh Bhatia, Director, Rex Enterprises:
"Bigger and Better is our mantra! We plan to partner clients in offering the best retail experience to their customers through innovation, design, systems and technology at competitive prices. The idea is to ensuring growth for all stake holders and work towards more sustainable solutions."
Tushar Jain, Director, AEI India:
"It's been a wonderful journey so far. Year on year I have been witnessing extensive developments in the industry. There are some drastic improvements in the quality of work being done across the Indian Industry in the last 2-3 years. In general, brands are now more focused on getting path breaking designs with bigger budgets. And at the other end, we as service providers are also improving ourselves with latest technologies and creative talent to fulfill their expectations. So my resolution for 2014 is to make our 2nd upcoming manufacturing set-up well equipped with creative & skilled manpower and packed with all the latest technology machines to match and bring out best possible retail solutions for our Industry. With this new set up I also plan to target overseas markets. Wishing all a super successful 2014 !!"
Brahim Casubhoy, Co-founder, Sudoku Communications:

" We intend to open a full fledged branch in Delhi, this year, we are very much focussed on strenthening our Pan India Network of Associates to bring in around 100 cities in India, under our network of Implementation and branding at site services, improving from our current count of 60 cities coverage. We are looking at appointing more people in the creative, production, prototyping and client relationship functions.
Secondly, we are looking at the current market scenario in our area of specialization. We are looking at getting into the new area of packaging designs and we feel as a shopper marketing company with an average team experience of 15 years, we are capable of delivering packaging designs which are in tune with consumer research.
We are also seriously building our company brand ' Sudoku Communications' through the digital space, we are looking at various innovations here to go about building the brand and bringing it into the position required, as we have started this particular enterprise only 1.5 years back after a partnership split in an older concern. We feel innovation is going to be the key in the digital space to get people to connect Sudoku Communications with the experienced team behind it.
All the innovative initiatives we kicked off so far have started creating positive association and we will continue to build on that."
Haresh Mehta, MD, Jayna Packaging Pvt Ltd:
"We are looking at bringing world class solutions. We want to change the mindset about our industry and churn out premium solutions much like or better than our international counterparts. In India there is no dearth of talent and we are creating world class quality work. We want every one look to India for a world class solution provider as we have talent and all we need is people to pay for the talent, innovations is of course difficult as our market is tuned towards cost but we have to work around that.
We are ready - tomorrow when Walmart approaches we know what they want as we have studied them and are ready with the quality they will be looking for.