Amazon goes shopping for grocery partners
October 05, 2016
Industry insiders believe Amazon could soon be one the biggest players left in the segment, which has shrunk to just three to four firms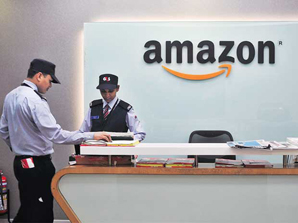 US-based online marketplace Amazon is quietly working on alliances and partnerships with brick and mortar retailers and hyperlocal e-grocers for its Amazon Now service.

Amazon has been scouting for hyperlocal e-grocers as well as medium to small grocers to increase its touch points and reach, and reduce the time to deliver products.

"We have had meetings with Amazon to be part of their grocery service. We are still weighing options. If we join, it will definitely increase the number of orders we get. But we are still considering it," said an e-grocer in the capital.

While the service is live in Bengaluru, the company recently launched it in Delhi-NCR and would start in Mumbai before Diwali.

"Almost all big format players are already on board. We have launched in two cities and Mumbai would be next. This is an organic and gradual process we follow in every city. We will keep adding new players and kirana stores to the mix," an Amazon executive told Business Standard.

Amazon has entered a series of tie-ups with major retail chains including Big Bazaar, Hyper City, Spar Hypermarket, Reliance Fresh, Modern Bazaar, Easy Day among others. The company is scouting for more partners in Mumbai, where it plans to launch next.

"Orders would be taken on the Amazon app and website and runners would be deployed outside retailers, from there, delivery would take place. This is how Amazon plans to start the grocery service. Getting into tie-ups with physical stores it will take an omni-channel route, to provide groceries in the shortest possible time," said a source close to the company.

The Future Group has taken the omni-channel approach quite seriously. It recently tied up with Paytm to sell products from Big Bazaar on its platform. With this, both Big Bazaar and Easy Day would cater to Amazon's customers. Modern Bazaar also has an online portal for online ordering and delivery of groceries and other items.

Experts believe the company is taking its time to start the grocery service like it did in the US. Also, it is ensuring that maximum consolidation happens before it makes a major play.

"While Amazon as an e-commerce player made rapid strides in both the US and India, it is has taken time with its grocery vertical. In the US, Amazon launched its grocery service in 2007. Seattle tested it for almost six years before it started expanding. Even then, they have just expanded to a few other cities. They do not want to get this wrong and are doing multiple tests and getting reliable partners," said an analyst with an international consultancy firm.

Industry insiders believe Amazon could soon be one the biggest players left in the segment, which has shrunk to just three to four firms. At present, Big Basket and Grofers are the two major e-grocers.

"They know that rapid expansion is a death blow for an e-grocer. Growth has to be in per kilometer terms and only when you have gained market share in that particular area," added the analyst.

In the past few months, the sector has gone through tough times as about 25 players shut shop. PepperTap, which had Snapdeal as a lead investor in one of the funding rounds, raised around $50 million (Rs 332 crore) before it shut shop early this year. Many others such as Paytm, Flipkart, and Ola have all burnt their fingers in grocery.