Amazon India attracts more traffic in sale month than annual Taj Mahal visitors
By Marthy Barmejo | Vjmedia Works | October 28, 2014
E-commerce major claims total shipments during'Online Shopping Dhamaka' month weigh more than 800 elephants put together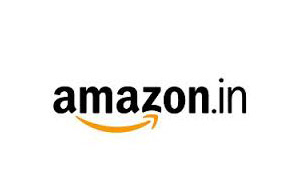 More people visited its website during a recently concluded month-long shopping bonanza than tourists thronging the Taj Mahal every year, claimed Amazon India on Monday.
The festive season had fuelled a fierce competition as well as debate in the e-commerce space this year. Like its competitors, Amazon India, too, offered an "Online Shopping Dhamaka" from September 21 to October 21, during which sellers offered deals and discounts on a host of products across categories on www.amazon.in.
The American major also claimed that sellers, with monthly revenues of over Rs 10 crore in the online market, grew five times in this period.
Even though Amazon India refrained from sharing any figures (like most of its peers), it tried to sustain its claims of success through metaphoric comparisons. (See chart)
It said: "...traffic on Amazon.in during the month-long Online Shopping Dhamaka was over 15 times that of the total number of tourists thronging the Taj Mahal every year."
The company also claimed that the total weight of the shipments it made in the last one month was equal to over 800 "adult elephants", with mobile devices contributing to "nearly half of the traffic". Other top categories included consumer electronics, books, home, beauty products, and shoes.
Amazon India said if all the books sold from the portal in the last one month were stacked up, the pile would be higher than Mount Everest, the world's tallest mountain peak. The pairs of shoes sold on the e-commerce major's portal in India during the 30 days would be enough to walk to Mars and return, "without running out of a pair of shoes", it added.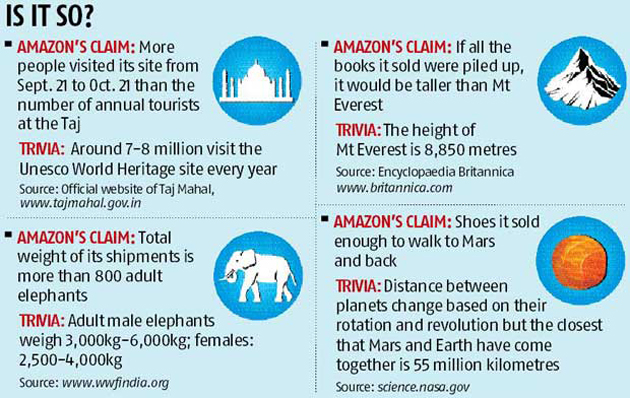 It also said the sarees sold on Amazon.in over the last one month could "engulf the cricket pitches of all ODI (one-day international) grounds across the globe 20 times over".
As against competitor Flipkart, which ran a one-day — "Big Billion Day" — sale ahead of Diwali, Amazon India spread its festive season sale through an entire month. Buyers were offered new deals on each day of the sale, which spread over Navratri, Durga Puja, Dussehra, Karwa Chauth, Dhanteras and Diwali — festivals that Indians consider auspicious for making new purchases. During the month, Amazon India ran three major events including "Mission to Mars" (October 4-6), "Diwali Dhamaka Week" (October 10-16), and "Dhanteras Dhamaka" (October 21).
"The response has been beyond our wildest expectations," said Amit Agarwal, the country manager and vice-president of Amazon India. "With millions of customers making their first purchase on Amazon.in this festive season, over 50 per cent orders coming from non-metros... traffic spikes witnessed on multiple occasions throughout the month-long celebrations stand proof of the cheer and delight that our customers and sellers experienced this festive season on our platform."
Buyers from metropolitan cities like Delhi, Mumbai, Bangalore, Hyderabad and Chennai topped consumption during the sale period, while Pune, Ahmedabad, Jaipur, Nagpur, Coimbatore and Bhubaneshwar were the top participants in the non-metro category. The website also saw increased interest from cities like Surat and Baroda in Gujarat, Patna in Bihar, and Ludhiana, Amritsar and Chandigarh in Punjab.