Analysts see e-commerce as a possible backdoor entry for Walmart into India
By Christopher Brace | Vjmedia Works | March 10, 2014
Walmart stopped expansion end of 2012 as it has been going through internal probes to check irregularities in this country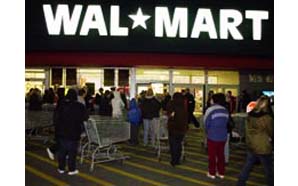 The marketplace e-commerce model, which does not restrict foreign investment, seems the best bet available at this point for tapping the Indian retail market for Walmart, the American giant in this sector, say analysts.
Walmart operates 20 cash and carry or wholesale stores across India. It stopped expansion at the end of 2012, since it was going through internal investigations for irregularities in operation, here and elsewhere.
It also parted from its Indian partner, Bharti Enterprises, last year. This latter development makes it impossible for the chain to run multi-brand retail stores here, till it ties up with another domestic company. In such a scenario, launching marketplace e-commerce appears a sound alternate plan, say experts.

By the time it is able to find a local partner and sort the sourcing issues for opening multi-brand retail stores, e-commerce could give Walmart a strong footing here. The chain has remained parked in India for seven years in spite of the odds, a sign that it is still keen on opening brick and mortar multi-brand stores.

While a company spokesperson referred to the buzz on rolling out an online venture as "rumours and speculations", Walmart also stated it wanted the government to allow foreign direct investment (FDI) in e-commerce.

"We would like to serve our customers in ways that can help them save money and live better. Our experiences worldwide support the fact that e-commerce is an important and growing area that meets our customers' shopping needs," it went.

The Bentonville-based company has been working on the government for long on allowing the opening of e-commerce. In August 2013, Scott Price, its Asia president and chief executive, had written to Finance Minister P Chidambaram that "several other sectors stand poised for exponential growth and are ripe for foreign investment, and foremost among them is e-commerce". He had underscored the potential here, comparing it with China. Walmart has retail operations in 27 countries and e-commerce portals in 10 of these.

The marketplace e-commerce business is most favoured in India because there's no government norm limiting foreign investment in this format. This is about hosting brands or retailers on a portal. The host company is either categorised as a technology or a back-end entity. Otherwise, FDI is not permitted in e-commerce, usually identified with an inventory-led model.