Apparel retailers to strengthen self-run online platforms
By Surya Prakash Gowda | Vjmedia Works | October 30, 2014
Standalone apparel retail companies are building their own online platform to sustain and enhance customer loyalty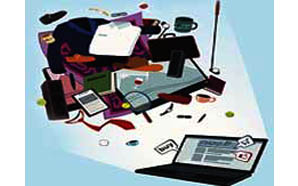 With the onslaught of e-commerce players like Flipkart, Amazon and Snapdeal, among others, standalone apparel retail companies like Arvind Ltd., Shoppers Stop and TT Ltd., among others are building their own online platform to sustain and enhance customer loyalty.
Branded apparel retailers and industry experts alike believe that while such self-run online platform may not offer the kind of exposure among consumers, the same could help attract loyal customers. Among the branded retailers, while Arvind is planning its own online omni-channel, the likes of TT Ltd and Shoppers Stop are already selling products through their websites.
While pricing will more or less remain consistent with their brick and mortar stores, retailers do intend to bring in certain exclusivity to their online ventures. For instance, according to J Suresh, managing director and chief executive officer of Arvind Lifestyle Brands Ltd., while the company has control over pricing and discounting on its brands that are sold through popular e-commerce platforms like Flipkart and Myntra, the same can be played over its platform.
"While we do sell through the e-commerce platforms, we are also going to have our own e-commerce space. This is an emerging channel and one cannot wish away saying that I will not do that channel. We are only looking at our brands and there will not be difference in price points. So if we are giving promotions at our brick-and-mortar stores, the same will be given online. We may have some special offering which may sell only online where we have a different kind of pricing," said Suresh, adding that Arvind Ltd has set up an online arm called Arvind Internet Ltd (AIL) which is being led by the company's executive director Kulin Lalbhai.
Similar strategies are being followed by the likes of Shoppers Stop and TT Ltd. What's more, according to Sanjay Jain, managing director of TT Ltd., the company too follows multi-channel of selling both through popular e-commerce platforms as well as its own website.
To further drive their self-run online platforms, branded apparel retailers are planning to bank on the additional advantage of having their stores as delivery points for the online orders.
In fact, Arvind Ltd plans to see e-commerce being an over Rs 1,000 crore business in next three years. "Arvind Internet Ltd will be the vehicle that will enable Arvind's e-commerce vision. As pioneers in bringing global fashion to India, Arvind now intends to extend innovative and best in class brand experiences to the online world. We are all set to be a leading consumer lifestyle player in the digital space by engaging in several business models that can scale globally. Arvind sees e-commerce as a key growth driver for the group and we aim to be Rs 1000 crore plus business in three years," Lalbhai had said earlier.
While company officials at Shoppers Stop refused to comment on grounds of silent period, Sanjay Jain, managing director of TT Ltd. said that the company is selling through its own online platform to garner customer loyalty.
"These e-commerce websites are basically now becoming marketplaces. One can have self-run platform and increasingly more number of branded apparel retailers are doing so for their own brands. It is like having an MBO and an EBO. One needs to have a two-pronged strategy. One will have to have a multi-channel approach today. We have our own e-commerce website and we are also selling through Flipkart, Amazon and eBay and tying up with others too. This is so that loyalty is ensured on your own platform and you don't get compared with other brands and products," Jain added.