Asus India to open 140 exclusive stores this year
By VJ Media Bureau | Vjmedia Works | 3 | May 17, 2013
The brand launched its first exclusive store in Bangalore, while it plans to expand its retail footprint to smaller cities across the country this year.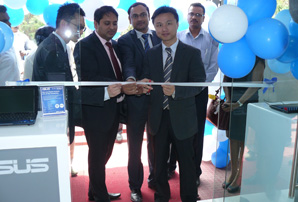 In view of the ongoing retail expansion, Asus India today unveiled its first exclusive store at 80 feet road, Indiranagar, Bangalore. A leading manufacturer of notebooks and tablets, Asus India currently has 60+ exclusive outlets across the country and plans to open 140 stores this year. The brand is expanding its retail presence and entering smaller cities and towns in India.
Speaking on the occasion Unaez Quraishi, Sales & Distribution - Director, System Business Group, ASUS India said, "Bengaluru is India's information technology hub and is an important tech-savvy market for us. There are a large number of technology companies in the city and it was important for us to have our presence as well. We have inaugurated this store to reach customers better and also cater to the demand for our products here." He added that the company will be opening another 3 stores in Bangalore this year.
The new outlet in Bangalore, will feature the company's entire range of Touch notebooks, Ultrabooks, Tablets, Notebooks and Netbooks. It will house the brand's leading products including ASUS Nexus 7, Asus TAICHI, Asus Vivobook F202E, ASUS MeMO Pad and the newly launched ASUS FonePad.
The company already has set up stores in New Delhi, Kolkata, Mumbai, Calicut, Goa, Thane, Raipur, Bhillai, Gurgaon, Durgapur, Kanpur, Cochin, Kolhapur, Noida, Pune, Amravati, Kottayam, Lucknow, Jaipur, Mysore, Guwahati, Dehradun, Belgaum, Hubli, Gwalior, Anand, Warangal, Kannur, Coimbatore, Burdwan, Imphal, Agartala, Ludhiana, Nashik, Siliguri, Nagaland, Chennai and Shillong.