At 9.5% of sales, Zara offers highest revenue share to Mumbai's Oberoi mall
By Chaitanya Muppala | November 29, 2016
This is the highest revenue share offered by any fashion retailer for an anchor position in a mall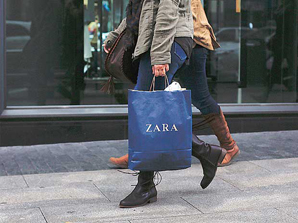 Spanish apparel retailer Zara has leased 30,000 sq ft of retail space at a mall in the Goregaon area of this city.

Apart from being its largest store in the country (operational this month in Oberoi Mall), the retailer will pay 9.5 per cent of sales or a minimum rent of Rs 100 per sq ft per month on carpet area, whichever is higher, say sources. This is the highest revenue share offered by any fashion retailer for an anchor position in a mall, say retail consultants. Typically, global retailers such as Zara pay eight-nine per cent of sales as rent.

"Considering the business it does at other malls in the country, it will definitely cross the minimum rent and pay a percentage of sales, a great deal for the mall owner," said Abhishek Tiwari, co-founder, CRE Matrix, a property analytics entity.

In addition to the rent/revenue share, it is also bearing an additional Rs 26 per sq ft per month towards heating, ventilation and air-conditioning at Oberoi Mall.

Zara's store at Palladium in High Street Phoenix here pays the higher of a minimum guaranteed rent of Rs 319 per sq ft per month (carpet area basis) or eight per cent revenue share. "This store is likely to be one of its highest grossing in India, which enables it to guarantee such high rents," Tiwari said.

An e-mail to Oberoi Realty, owner of the mall, did not elicit a response. Nor did an e-mail to Zara.

Earlier this year, Zara took on lease 50,000 sq ft carpet area in the Ismail building in the Fort area of Mumbai. Zara would pay around Rs 2.5 crore a month as lease rental to the owner, Supariwala Exports. This works out to a little over Rs 450 a sq ft per month. Howeever, the store is yet to open.

Zara has a joint venture with Tata-owned Trent for Indian stores. It has 19 in the country and does about Rs 2,500 a sq ft per month on an average across its stores. In most malls, either it's steady or growing.

"Also, Zara's bargaining power and appetite for more store space can be judged from the fact that it has been able to secure the right of first refusal over any space that gets vacated adjacent to its store in future. Symbiotically, it works well for the mall owners as well, to have a successful global retailer driving footfalls and revenues," Tiwari said.

Though Inditex Trent, the Zara parent's joint venture with Trent, posted the slowest sales growth in many years at 17 per cent after entry of H&M and Gap, and tough competition from online portals, the mall heads Business Standard spoke to say it is posting a 20-30 per cent like-for-like growth, considered robust in fashion retailing. Like-for-like growth is that from stores in the business for a year or more.