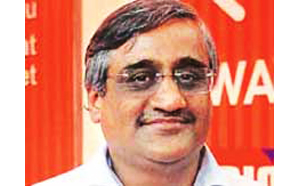 The country's largest retailer, Future, will launch its biggest marketing campaign in a decade on March 24. The Rs 100-crore marketing exercise, which will run for a year, will feature a new ad film every week. Future group's Big Bazaar will push its private labels as well as known fast moving consumer goods that do well at its stores, projecting how the retailer is at the centre of changing consumer lifestyles and fashion.

Effectively, Big Bazaar will use the marketing campaign, which will play on mass media as well as social media, to reposition itself as a change agent rather than a player who provides the deepest discounts in the business.

"The new tagline for Big Bazaar will be Making India Beautiful," Future Group CEO Kishore Biyani said in a media briefing today.

While Nayi India Ka Bazaar (loosely translated as New India's marketplace) was Future's last advertising tagline, it was the one before - Isse Sasta or Acccha Kahin Nahin (there is nothing as inexpensive and good as this) - that has stayed in the minds of consumers.

Madhukar Kamath, group CEO & MD, DDB Mudra, Future Group's ad agency, which conceptualised and executed the campaign, says that it worked closely with the retailer to identify the right consumer trends, categories and products to be projected. "We have identified 52 categories that will be unveiled through the course of the campaign," Kamath said at the press briefing, where five ad films which showed how products as diverse as hybrid cooktops, high-end chocolates, designer shirts, jeans and high-end mops had become a part and parcel of a consumer life, were screened.

Biyani, whose Big Bazaar has 250 stores across 95 Indian cities, said that the campaign would see spin-offs such as ads promoting cities where the group has its stores. "These spin-offs will be largely print ads where we will tie-up with the local municipal bodies in various cities and highlight what is good about that city and what more can be done," said Biyani.

Big Bazaar will also aggressively engage with users of social media during the duration of the campaign, sending out promotional tweets aimed at provoking conversations. A month after the launch, Big Bazaar will also encourage consumers to upload videos and send in their stories of how they could make India beautiful. "This is a mammoth exercise that we have undertaken, which has many legs to it," said Sandip Tarkas, president, customer strategy, Future Group.

In September 2013, furniture retailer IKEA launched its year-long 'Make Time for Living' marketing campaign in Australia that attempted to position the company as one who was keen to improve lifestyles with its products. This was in stark contrast to its price-focused ads that would run across media earlier. To drive home its new marketing thought, the retailer used all possible modes from print, TV, outdoor, cinema and digital.