Big Bazaar plans 1,000 virtual kiosks in small towns this year
By Christopher Brace | Vjmedia Works | January 15, 2014
Products other than food items at these kiosks will use the same supply chain as the e-commerce companies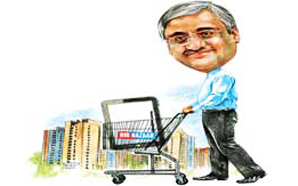 As part of its omni-channel strategy,
Future group
-owned
Big Bazaar
Direct has launched a
virtual franchise
programme across the country, targeting small towns.

Under the Direct plan, franchise holders will run kiosks where consumers could choose from Big Bazaar's catalogue. After placing an order, a customer will have to pay the franchise operator. Big Bazaar Direct says it will deliver the product in three to seven days.

Earlier, the group had run pilot projects in Nagpur, Amravati and other cities the Vidarbha region in Maharashtra.

Big Bazaar expects to start about 1,000 such kiosks by the year-end, seeking to expand to 10,000 virtual franchises in 2015. The company expects after a year, each store will get orders worth Rs 4-5 lakh a month, said Vivek Biyani, director of the group and heading the Direct plan.

Supply chain
Products other than food items at these stores will use the same supply chain as the e-commerce companies, with a network of courier partners.

All non-food products will be shipped from Nagpur,where the group has a large backend facility. For the food category, the local supply chain will be used.

Any old or aspiring retailer can apply for a kiosk, which will come at a fee of Rs 3 lakh. Of this, a third is investment for training and tablets, etc, another third is advance and the balance refundable security deposit.

The commission earned from the franchise would be between three and 20 per cent, depending on the product. Electronics and food items bring low margins, fashion higher. The presence of a shopkeeper will help build trust in people in these small towns, said Biyani.