Biyani bets big on small lifestyle companies
By Chaitanya Muppala | Vjmedia Works | January 21, 2014
After making handsome profits on Biba and AND, the homegrown retailer plans a string of similar investments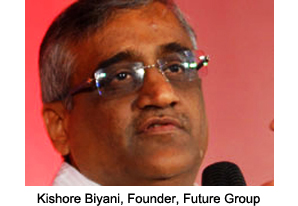 One-and-a-half years after he sold his department store chain Pantaloons to the Aditya Birla Group, homegrown retail king Kishore Biyani is making several small yet strategic moves to strengthen his lifestyle and apparel portfolio by acquiring stakes in apparel and shoe companies.
After his company, Future Lifestyle Fashions, newly carved out from the fashion businesses of Future Ventures and Future Retail, sold stakes worth Rs 450 crore that it held in two apparel firms - Indian wear brand Biba Apparels and western wear brand AND - the company has picked up stakes in two footwear firms, Tresmode and Famozi Shoes, and in a designer wear chain called Mineral.
Future Lifestyle Fashions has also bought 27.5 per cent stake in Resource World Exim, a company that sells women's fashion apparel under the brand, Desi Belle, for an undisclosed sum. Biyani is further believed to be in talks with Delhi-based department store chain Biglife Ritu Wears, Bangalore-based garment chain Coupon and Delhi-based premium apparel brand Giovani Fashion for buying a stake.
RETAIL JOURNEY
1987: Starts Manz Wear to make trousers under Pantaloon brand
1991: Goes public under the brand Pantaloon Fashions
2001: Sets up first Big Bazaar in Kolkata
2008: Lists non-banking arm Future Capital
2011: Lists Future Ventures
2011: Debt soars to over Rs 7,850 crore
2012: Sells fashion format Pantaloons to Aditya Birla Group
2012: Signs deals with Industrial Investment Trust to sell life insurance
2012: Sells Future Capital to Warbug Pincus
2013: Sells stake in general insurance business to L&T
2013: Lists Future Lifestyle Fashions
2013: Debt falls to below Rs 5,000 crore
Though Biyani does not comment on the subject, he has been quoted in the media about his plans. "We are exiting mature investments. The investments in Biba and AND were both made more than five years ago. We exit investments when they become large," Biyani told Press Trust of India recently. "These new investments in Mineral, Tresmode and Framozi will mature in four to five years."
By his own admission, Biyani delt in everything from insurance to private equity to non-banking financial services besides retail, but downsized later. As debt mounted to as much as Rs 7,850 crore in 2011, he was quick to sell businesses which he considered non-core. He sold stakes in his NBFC (non-banking financial company), insurance ventures and fashion format Pantaloons to deleverage.
"I have learnt to detach myself from whatever I have built. We will divest stakes in ventures which give us strength," Biyani had told this correspondent earlier.
Apart from reducing the debt ( today his listed entity, Future Retail, has less than Rs 5,000 crore of debt on its books), Biyani has used the cash to acquire stakes in new brands.
TRUE TO HIS KNITTING
He is a man who has dabbled in everything from Hindi movies to life insurance but fashion remains the closest to his heart, say people who know him. Starting off as a manufacturer of trousers in Mumbai in 1987, Kishore Biyani never lost sight of his first love.
After he sold off his fashion format, Pantaloons, to reduce debt, the 52-year-old, who can seldom be found in a suit, set up a chain of apparel stores called I am in, and aggressively expanded his other fashion store, Fashion at Big Bazaar. From being an adjunct of Big Bazaar — it shared floor space with the department store— Fashion at Big Bazaar was converted into independent standalone stores.
Going a step further in 2012, Biyani demerged the fashion business of both his listed companies Future Retail, which held Central and Brand Factory, and Future Ventures, which owns many brands such as John Miller and Urban Yoga, into a separate company called Future Lifestyle Fashions and listed it on the exchanges.
Biyani thinks fashion vertical would be a Rs 7000-crore business this year, which is far bigger than his other verticals such as food and groceries and home and electronics. "We believe Fashion at Big Bazaar will be contributing Rs 3,000 crore and Future Lifestyle Fashion the balance Rs 4,000 crore next financial year," he says.
The new order
Following the restructuring exercise of the last few years, Biyani's businesses fall into three baskets - fashion, food and grocery, and home and electronics, which are housed in two listed entities, Future Lifestyle Fashions and Future Retail, respectively.
According to Bijou Kurien, former chief executive (lifestyle), Reliance Retail, a part of Reliance Industries, "The exits in Biba and AND have given Biyani the confidence that if he spots winners today and picks up stakes in them then he stands to earn multiple returns in the future. After the sale of Pantaloons, he has a good opportunity for new investments."
Biyani is believed to have made handsome returns from his exits in the two brands. The five-year-old investments in AND and Biba earned him returns of 24 times and 5.5 times, respectively. Future Lifestyle Fashions had 22.9 per cent stake in AND and 25.8 per cent in Biba.
Biyani, who founded a small fabric business in the 1980s and today runs the country's largest hypermarket chain called Big Bazaar, is looking at the companies in which he has invested as distribution channels and plans to nurture them into larger businesses before eventually exiting them, say insiders in the group.
In cases such as Mineral - in which Future has bought a minority stake and which already sells at Central, Future's mall-format selling point - the idea is to take business to the next level, says the executive quoted earlier. "Since Biyani understands apparel so well, he is looking at brands which have high growth potential. If you invest in chains which do business of Rs 10 crore to Rs 30 crore and fund and mentor them adequately, he knows that you can easily take their revenues to Rs 100 crore," says the chief executive of one of the companies in which Biyani has invested. He does not want to be named.
"If the deal on majority ownership with Giovanni finalises, that will add to the formal-wear strength of Central," says a top executive in Future. "Also, Ritu Wears and Coupon can be good channels to retail our brands while we can also look at selling their brands."
The chains know that Biyani's association with them will not be inconsequential. "KB(as Kishore Biyani is called within the group) brings both business expertise and intellectual capital. He loves nurturing entrepreneurs. That is why people are keen to undertake deals with him," says the aforementioned chief executive.
Adds Arvind Singhal, chairman of Technopak Advisors, a retail consultancy: "Earlier, Biyani was more tempted to start his own ventures. Now he is leveraging his experience, understanding of the segment and his existing network to his advantage."
Stores and more
Among others, Biyani runs over 150 Big Bazaar stores which sell value-for-money products as well as around 24 Central department stores and 26 Brand Factory discount stores. These constitute a captive retail network for many of the apparel brands of the group.
The new acquisitions are, in many ways, replacement for the spaces he has exited. "While he has exited AND, a stake in Mineral has helped him bridge the gap. The same is true of Biba, which he has exited and replaced with Desi Belle," says the chief executive mentioned above.
Also, an executive points out that Mineral and Desi Belle have been set up by former Future executives. While Mineral is headed by Jaydeep Shetty, former head of new business at the group, Desi Belle was founded by Sharmila Nadkarni, the former head of fashion category at Big Bazaar. "Biyani puts relations beyond businesses and keeps in touch with many of his former colleagues," he explains. There are, after all, profits to be made.