BJP can't rollback retail FDI policy, says Sharma
By Chanda P Kumar | Vjmedia Works | April 14, 2014
Minister says states have no legal way to revoke decision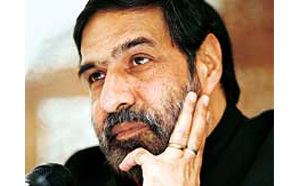 Commerce and industry minister Anand Sharma on Sunday accused the Bharatiya Janata Party (BJP) of scaring investors by opposing foreign direct investment (FDI) in multi-brand retailing and claimed the BJP would not be able to revoke the existing policy, as it was passed in both houses of Parliament.

"This (Parliament vote) had reached finality and a closure in December 2012," Sharma told Business Standard.

The BJP's election manifesto says if it comes to power at the Centre, it will not allow FDI in multibrand retail trading (MBRT).

Some people chose to also take it to the Supreme Court, triggering a public interest suit, and a three-judge Bench gave a ringing judgment that it would help and was good for farmers and consumers, Sharma added. "So, whose interest is the BJP projecting? It is only scaring away investors," he said.

Sharma also reiterated a point he'd made earlier, that once a state government has allowed FDI in MBRT, it cannot later cancel this. But if a state government has not allowed this, it has the option to do so at a later stage.

"Let us not forget that the policy is notified. The states were given the option. Those who did not opt still retain the option to join later but those who did take the decision to join have exhausted their option. The policy is meant to have stability and predictability. Otherwise, there will be no credibility in the eyes of the investors," declared Sharma.

However, he conceded, his ministry had also sought legal opinion on the matter and was awaiting a response. Yet, Sharma hoped that as the policy had "SC approval", it would not be altered in such states.

The BJP government in Rajasthan decided to not allow FDI in MBRT, although it had been allowed by the predecessor government, run by the Congress. Similarly, in Delhi, when the Aam Admi Party came to power, it had planned to cancel the policy. The previous government under the Congress had allowed it.

On the UPA government's failed attempt to allow FDI in railways and real estate, Sharma said the decisions got stuck because of the Election Commission (EC), which did not let it pass.

"It (FDI in railways and real estate) did not get stuck because of us. These decisions were made long back. I fail to see why the EC did not allow this to go through. This was not going to affect at all the conduct of elections," he said. "The note was in the cabinet secretariat. This, I feel, is an overreach and it is most unfortunate."