Blackstone in talks to buy Pune mall for Rs 400 crore
By Chaitanya Muppala | October 20, 2016
Inching closer to become No 2 mall owner in the country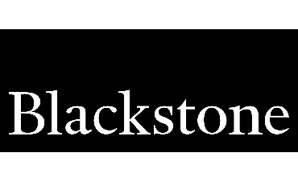 US-based private equity giant Blackstone is in the final leg of talks with owners of Pune-based Westend Mall to buy it out, said a source in the know. The deal is expected to be around Rs 400 crore.

If the deal goes through, Blackstone would come closer to overtaking DLF to become the second biggest owner of malls in India. It is already the biggest owner of office properties in the country. It has a portfolio of 35 million sq ft.

If the 400,000-sq ft Westend Mall deal goes through, Blackstone's mall portfolio would swell to 3.4 million sq ft, the source added.

DLF has 3.5 million sq ft of malls including the 2-million sq ft Mall of India in Noida.

This could also become the fifth mall bought by Blackstone in the past two years. After buying the mall of L&T Realty in Mumbai, Blackstone recently bought another mall in Coimbatore for Rs 450 crore.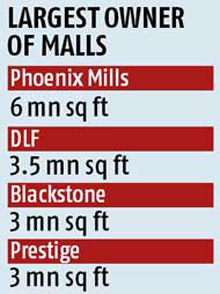 At present, Phoenix Mills is the biggest mall owner in the country with a portfolio of six million sq ft and Bengaluru-based Prestige is the third largest with three million sq ft of space. It is also building 2.5 million sq ft of malls.

While many in the industry believe Blackstone would overtake Phoenix Mills in a couple of years as it is looking to double its mall space, the source quoted earlier said Phoenix was looking to sell stake in some of its malls and would expand its portfolio.

When contacted, a Blackstone spokesperson said: "As a matter of policy, Blackstone does not want to offer any comment on your queries based on media / market speculations."

An email questionnaire sent to a Westend Mall executive did not elicit any response.

"The mall is in a good location and fully leased. That's why Blackstone is looking to buy it," said a senior executive from a property consultancy firm.

Arvind Singhal, chairman of Technopak Advisors, said: "Many of the Indian malls are sold out and cannot be bought. That's why Blackstone is looking at buying leased out and incomplete malls."

Singhal added that Blackstone could float a real estate investment trust (Reit) later and monetise its investments.

Blackstone has already set up a separate company, Nexus Malls, to manage the malls, said a source.

Blackstone is looking to buy more land parcels, which it would develop with land owners, the source said. Last year, Blackstone acquired AlphaOne, which has malls in Ahmedabad and Amritsar.

This year, Blackstone bought a one million-sq ft mall in the Seawoods area in Mumbai from L&T Realty for Rs 1,400 crore. According to sources, its mall portfolio is valued at Rs 1,800 crore.

About 75 people work in the malls and offices of Nexus Malls.

"Normally, they like 100 per cent ownership but they are also open to floating joint ventures," the source added.

Globally, Blackstone has $101 billion worth of assets in real estate and owns 180 million sq ft of retail assets. In India, it has invested about $3 billion in real estate.

They own Multi Corporation in Europe, which owns or manages 161 shopping centres, factory outlets and retail parks on the continent.

Many mall developers are looking to float partnership with PE funds. While Mumbai-based Oberoi Realty is in talks with Morgan Stanley and others to float a Rs 1,000-crore platform, Ruia-owned Phoenix Mills is talking to Canada's CPPIB to buy land and develop malls, reports said.

Real estate consultant JLL said in a presentation recently that 7.9 million square feet of new mall space would added this year. This is double of last year's figure. According to JLL, the total number of malls in the country will go up to 720 in 2016 from 542 in 2014.