Blueair accelerates offline retail expansion in India
By Nabamita Chatterjee | Vjmedia Works | October 21, 2016
The brand is looking at accelerating offline retail presence to enable more Indians to take control of their air quality at home, work and leisure.
Blueair, a leader in innovative air purification technologies, is aiming at consolidating its leadership position in the Indian indoor air cleaning market. As a major drive, Blueair is planning for a major expansion of the company's retail network in Delhi and Mumbai, which will be rolled out into other major cities across the nation in the coming months.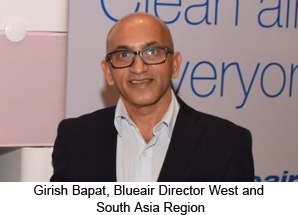 Recently Blueair has launched two new Air Purifier ranges in India. "Our mission at Blueair is to help Indian women, children and men confront the health challenges posed by rising air pollution by giving them access to the best air cleaning technologies that can create safer indoor havens. Blueair's air purifiers, which are innovated in Sweden to put people in control of their own air quality with superior filtration efficiency, will now also be much easier to buy, thanks to Blueair's accelerating availability in multiple retail environments," Girish Bapat, Blueair Director West and South Asia Region, said.

Vijay Kannan, Head of Blueair India shares more on the retail strategy of the brand in the Indian market. He said, "We have our presence in retails outlets in the cities like Mumbai, Delhi, and Bangalore etc. Presently, 80 per cent of sales come from retail and the rest from institutional clients such as embassies and corporate offices. We also are working on expanding our retail reach in other Tier II cities in India. Our goal is to build our retail network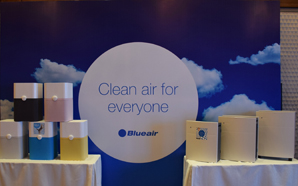 in such a way that we can help even more people benefit from the superior performance of air filtration technologies. Blueair is available also in online portals like Amazon, Snapdeal and eBay."

"India is growing market for the air purifying industry. We are working to double our dealer's network within the next six months. We are also aiming to double our market size every year. Presently, we have over 35 retail dealers covering metro markets as Delhi, Mumbai, Bangalore and tier 2 places as Pune, Chandigarh and Ahmedabad. In the coming years, higher growth in the air purifier market is expected to continue rocketing on account of continuously deteriorating air quality, increasing awareness about air purifiers and rising health consciousness among Indian consumers. According to reports, total market size of air purifiers in India is 60,000 to 70,000 units and Blueair has a sizeable market share that ensure we are one of the main movers-and-shakers in the industry", signs off Kannan.