Blueair to tie-up with national CDIT retail chains for Indian operations
By Nabamita Chatterjee | Vjmedia Works | May 28, 2015
With India being a very important market for the brand, they are looking at increasing sales via offline and online channels.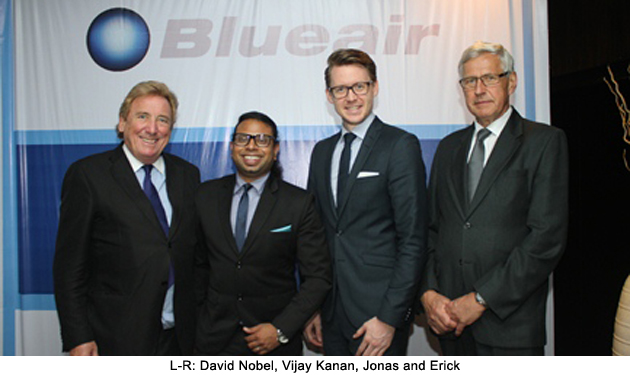 Blueair, the Swedish brand of indoor air purifying technologies and appliances, recently launched their Pan India operations as a part of their strategic expansion plan. Blueair will make available a full range of indoor air purifiers that can enhance health and well-being at home and work by removing most known airborne contaminants, hazardous dust particles such as PM2.5, chemicals, smoke and bad odours. The air purifiers are also known to remove deadly viruses that include the deadly H1N1, commonly known as swine flu.
Erik afUgglas, a senior member of the Blueair Board of Directors said, "Our entry into India is a very important milestone in Blueair's global growth strategy. India is a critical market where we expect to acquire a significant market share as a result of our superior technology, outstanding design and advanced air cleaning appliances. Our entry reflects both our strength as the leading global player in the air purifying category and our confidence in the ability to meet the opportunities that the highly-evolved Indian market offers. Blueair air purifiers have enjoyed huge success in many other countries such as China, Japan and the USA."
Vijay Kannan, Business Head in India, Blueair said, "We already have 4-5 exclusive dealers and one of them is Global Gadgets at Khan Market in New Delhi. For our retail distribution in the Pan India market we are aiming to tie-up with big national CDIT retail chains like Croma, Reliance Digital and such. Being a very premium product apart from the strategic dealership with these organised chains both in the national and regional level, Blueair will also focus on setting up flagship or exclusive retail outlets in the near future. We are trying to concentrate both on the offline and online sales. For online sales we are present with ebay and Amazon. Recently US embassies in Beijing, China, and Delhi, India have purchased thousands of Blueair air purifiers to protect staff in offices and homes against indoor air pollutants."
Blueair is sold in over 50 countries around the world.