Brick-&-mortar retailers are a house divided against itself
Vjmedia Works | November 04, 2014
While brick-and-mortar stores account for the bulk of India's $600-billion retail market - a majority of the total retail trade is still unorganised - online transactions' share stands at three-four per cent.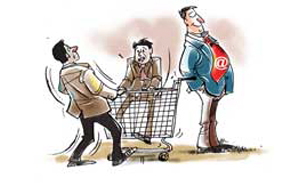 At a time when the hotting online-offline war is making headlines in India's retail space, the brick-and-mortar (offline) segment seems to be putting up much less than a spirited united fight against its online challenger.
Even as deep discounts by e-tailers are hurting the bottom lines of all companies running physical stores, and smaller offline traders - mostly mom-and-pop stores - are resorting to protests and agitation, the larger ones are looking to leverage the online medium. They see in the e-commerce marketplace model, also followed by the likes of Amazon, Snapdeal and Flipkart, a great opportunity to spread their reach and sales.
While brick-and-mortar stores account for the bulk of India's $600-billion retail market - a majority of the total retail trade is still unorganised - online transactions' share stands at three-four per cent.
For large groups with deeper pockets, the online marketplace model reduces the real estate cost of opening more physical stores and allows passing of the saving to consumers in the form of chunky discounts, say analysts. By comparison, the smaller traders, wary of the deep discounts they would also have to offer if they went online, are resorting to protests.
Recently, the Confederation of All India Traders (CAIT) led a nationwide agitation that saw about 250 unions (primarily of smaller retailers) holding street protests. Major offline retailers chose to stay away from this, in spite of efforts to get them on board.
According to CAIT Secretary-General Praveen Khandelwal, the larger players form about 10 per cent of the total offline retail trade. "We are trying to communicate to them but many of them are keeping off the protests and favouring discriminatory laws. This is also because of cut-throat competition among themselves," Khandelwal says.
Ajit Joshi, Chief Executive of Croma Retail, Tata Group's electronics and durables chain, says his company is against predatory pricing, but street protests are not the ideal way to address the issue.
"We have to reach our consumers and, if some of them are online, we should to take a balanced path and make an attempt to reach them as well... Of course, selling below cost price will do no good to anyone," Joshi says, adding digital presence of media outlets will not kill the traditional medium.
Online retail has grown over time, but the recent pre-Diwali mega sales by Flipkart and Amazon, which offered deep discounts, drew severe criticism from offline traders.
The Mobile Store, promoted by the Essar group, is another large offline player not in favour of street protests. "We have our own way of communicating against predatory pricing. We cannot go to the streets and protest. We have directly communicated the issue to brands, and their response has been positive," says the company's CEO Himanshu Chakrawarti. The Mobile Store has chosen to stay out of the ambit of the All India Mobile Retailers Association.
After voicing his protest against Flipkart's 'Big Billion Day' sale, Future Group CEO Kishore Biyani, too, has softened his stand against online retailers. Biyani recently tied up with Amazon in India to sell its fashion and food products in the country for three years.
Snapdeal Co-Founder Kunal Bahl recently told Business Standard that major offline retailers, understanding the advantages of the marketplace model, were joining the bandwagon. Croma is one of the many sellers on Snapdeal's website, and more are expected to join soon. In fact, the day Snapdeal signed a deal with Japan's SoftBank for a funding of $627 million, Bahl was on his way to meet the CEO of a retail company and get it on to the online platform.
"I think associations cannot just protest over assumptions that prices are predatory. Had there been a case of competition abuse, the Competition Commission of India would surely have taken action," said Arvind Singhal, chairman of Technopak, a retail advisory firm.