Britannia shifts focus to premium cream biscuits
By Dinesh Jain | Vjmedia Works | August 24, 2017
Premium cream biscuits segment is around 7% of the total biscuit market in India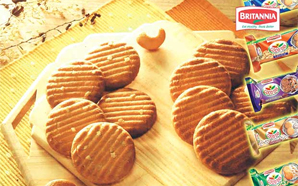 Biscuits major Britannia Industries will be relaunching its premium cream biscuit brand, Treat, in the next one week, as the competition in the cream segment intensifies. The relaunch, backed by a Rs 50-crore marketing budget, will see the firm completely overhauling packaging and communication, led by two variants — vanilla and chocolate — Ali Harris Shere, vice-president, marketing, Britannia Industries, said.
"Premium cream biscuits segment is around 7 per cent of the total biscuit market in India, but commands 30 per cent of media investments. While we have a share of
35 per cent in this category currently, we are aiming for a 50 per cent share in the next two years. The restage is intended to help us in this endeavour," Shere says.

Britannia's latest initiative, say experts, also comes at a time when players, such as ITC, Mondelez and Parle Products, are ramping up their cream biscuit offerings, as consumers look to trade up.
While the Rs 27,000-crore organised biscuit market was evenly split between low-priced and premium biscuits a few years ago, the ratio is now 60:40, with 60 per cent being the size of the premium biscuit market and the balance being the value segment or low-priced biscuit market.
Premium biscuits are priced at Rs 125 and above for a kg. The value segment is typically priced below Rs 125 a kg, with glucose biscuits priced below Rs 100 a kg.
Shere says the Treat relaunch will be the first of a series of such efforts by the company, including a restage of brands Bourbon and Pure Magic in the future. Britannia is expected to spend another Rs 50 crore on these initiatives in the next few months.
Cookies, especially premium ones, is a segment that Britannia has traditionally dominated with brands such as Good Day — its largest biscuit brand at over Rs 2,000 crore. Attention on the premium cream biscuit segment has been more recent for the company, as it took leadership in the category after lagging rivals such as ITC, which has brands like Sunfeast in the category. Parle Products, on the other hand, has brands such as Hide & Seek and Happy Happy, while Mondelez has Oreo as competition.
Industry estimates peg the size of Treat at Rs 250 crore, Bourbon at Rs 300 crore and Pure Magic at Rs 50 crore.