Business as usual at Q Shop?
By Ria Banerjee | Vjmedia Works | March 12, 2014
The Sahara group\'s retailing arm, earlier expanding at a quick pace, is chary of disclosing how it is bearing up under the current set of strains, even on basic numbers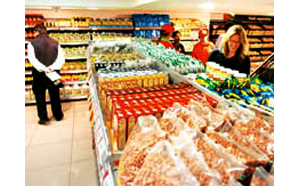 The Sahara group's retail business, branded as Q Shop, does not immediately reflect the challenging times they and their promoter, Subrata Roy, are facing. While a store manager spoke of growing sales in the past two weeks, coinciding with Roy's arrest, another source pointed to rising stress in the workplace over the recent developments.
There have been reports indicating closure of some stores, due to logistics and supply issues. Sahara did not reply to a questionnaire sent by Business Standard on the number of outlets, expansion plans, closure of stores, sales and performance. Even as the accurate number is not available, the group had about 1,000 stores, all on the franchisee model, as of November. Selling anything from packaged food to home appliances, these kiosk-like shops have sales of Rs 40,000-Rs 50,000 a month in a busy locality, with 25-30 customers a day.
Payment counters at the Q shops have'Sahara Enterprise' written in bold, and an employees proudly elaborated on the quality of products, especially ghee, "better than anywhere else".
Has Roy's arrest dented the sales? "These are bad times. But that has had no impact on our sales," an insider said, not wanting to be identified.
Sahara had entered retailing in September 2012 with an initial investment of Rs 3,000 crore and 1,700 home-branded products. It aimed at revenue worth Rs 15,000-20,000 crore in the first 12-18 months and as much as Rs 50,000 crore after two years. There's no word yet on whether the group would keep to its target. But it appears it might expand the category of products and focus more on distribution and logistics.
In fact, senior executives had earlier said the company needed to fix some gaps, occurring due to fast expansion. On April 1 last year, it had opened 315 stores across 10 states, in one day. By its original plan, it wanted to open 10,000 franchisee stores by the end of financial year 2014. That looks unlikely now.
At the time of entry into retailing, Sahara had engaged about 600,000 persons, the same set who were selling financial products. The group's target was to reach directly to consumers with its own brand of food and grocery products, as it was doing in financial products. Experts had then criticised the hybrid model — direct to consumers as well as stores. Again, there's no clarity whether the hybrid model continues or if the group has shifted to only the store format.
A sector expert told this newspaper there was a degree of absence of authentic information at the Sahara group when it came to the business format they followed, the number of employees, sales, and even the top management.
The packaged food market in India is valued at about $225 billion, according to Technopak estimates. This is almost half the country's retail business, estimated at $500 billion.
NO QUEUE AT THE SHOP
Sahara had entered the retail sector in September 2012 with an initial investment of Rs 3,000 crore. It aimed at revenue worth Rs 15,000-20,000 crore in the first 12-18 months and as much as Rs 50,000 crore after two years
The group had a little over 1,000 stores, all following the franchisee model, as of November 2013
These kiosk-like shops do sales between Rs 40,000 and Rs 50,000 a month in a busy locality, with 25-30 customers a day
Going by the averages at a few stores, the retail business is still quite small, perhaps less than Rs 100 crore