Carrefour chief coming, multi-brand deal likely
By Jim Hollen | Vjmedia Works | February 12, 2014
The chain is believed to be in talks with Indian retailers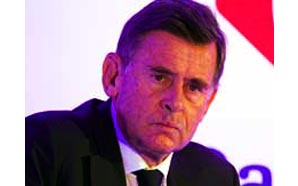 The world's second-largest retail chain, Euro 76-billion Carrefour, seems close to firming plans for opening multi-brand, or supermarket, stores in India, as the top boss is set to arrive this week from France.
The French group Chairman and Chief Executive Officer (CEO) Georges Plassat is reaching India this Friday, it is learnt. This is his first official trip to India, even as the chain has been operating its cash-and-carry business in the country since 2010.
Sources said Plassat, appointed chief executive in 2012 after Lars Olofsson resigned, is coming for a day, perhaps to strike a business deal.
The company did not respond to an email. The chain is believed to be in talks with Indian retailers, including K Raheja-owned HyperCity, a subsidiary of Shoppers Stop, and Kishore Biyani-promoted Future Group. Biyani had denied his group was tying with Carrefour. Shoppers Stop Managing Director Govind Shirkhande had declined to comment.
Commerce and Industry Minister Anand Sharma had indicated last month the second application for a multi-brand retail chain was expected soon, after the UK's Tesco put in the first. Tesco recently made its application for investing $110 million (Rs 700 crore) in opening multi-brand retail stores in India in a tie-up with Tata group's Trent. It's got the approval from the Foreign Investment Promotion Board.
The world's largest chain, the $469-billion Walmart, was expected to open the first foreign multi-brand business in India, but it faced a setback after breaking up with Bharti Group a few months ago.
Carrefour operates five cash-and-carry stores in India. The last outlet opened in Bangalore in December, while the others are in Delhi, Agra, Meerut and Jaipur. India is the only country in Asia where Carrefour runs a cash-and-carry business. Globally, the group operates 10,000 stores across four formats in 34 countries. In China, it opened the 238th hypermarket last month.
Though it had shut many stores across the world and exited Malaysia, Singapore, Indonesia and Greece due to the slowdown, it recently made news for buying a portfolio of 127 shopping malls in France, Spain and Italy from real estate group Klepierre. The company is focused on Europe and key Asian markets such as China.
At annual revenue of Rs 190 crore in India as of December 2012, Carrefour has been going slow in its cash-and-carry business in India.
The Cabinet cleared up to 51 per cent foreign investment in multi-brand retailing in September 2012. In cash and carry, up to 100 per cent foreign investment is allowed.