Carrefour exit fails to dampen Modi govt's spirits
July 09, 2014
All the five stores Carrefour is shutting are in the cash-and-carry segment, in which there's no restriction on FDI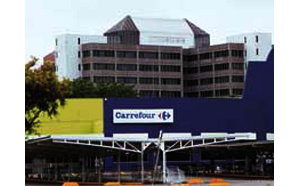 The exit of multinational retailer Carrefour doesn't seem to have ruffled the Narendra Modi government. A day after the euro 100-billion French retail chain announced its plan to shut all its India stores, ministers and leaders of the Bharatiya Janata Party (BJP) remained silent on the issue. The leaders' social media (Twitter and Facebook) accounts, a favourite communication tool of the current government, did not mention Carrefour through the day.
Though some quarters are interpreting Carrefour's decision as a setback for the Modi government, sources in the government said Carrefour's operations in India were too small to make a substantial impact.
Shrikant Sharma, chief of the BJP's media cell, said he didn't have anything to comment on the matter. He, however, pointed out the government's objective was to ensure livelihood for each person in India, "and for this, we believe India has enough resources". The BJP favoured foreign direct investment (FDI) in several sectors, including the Railways, but it would continue to oppose FDI in multi-brand retail, he said.
The party leadership was convinced Indian business couldn't compete with western retail giants, which got cheaper loans and better infrastructure such as non-stop power and better roads, said another BJP leader. The Modi government hasn't yet clearly spelt out its stand on FDI in multi-brand retail.
The United Progressive Alliance government had allowed up to 51 per cent FDI in this segment.
All the five stores Carrefour is shutting are in the cash-and-carry segment, in which there's no restriction on FDI. Experts cite internal problems and poor business at Carrefour India as the primary reasons behind the closure. Arvind Singhal, chairman of retail consultancy Technopak Advisors, told Business Standard the chain had been struggling to get the business model right in India for years.
Another analyst in the past nine years, the company had changed chief executives six-seven times in India. While its first cash-and-carry store in India was set up at end of 2010, Carrefour has been present in India for about a decade, in the sourcing business.
Carrefour India regional director Franck Kenner said the company had decided to shut the stores by September this year. He added no decision had been taken on whom to sell the business to. Sources said in the recent past, the process of due diligence had been undertaken many times, but no deal on selling the assets had been finalised. Various companies, including Walmart, Bharti, and Reliance, are believed to have been eyeing Carrefour's assets.
Company executives are in talks with landowners at the five store locations (Delhi, Jaipur, Agra, Meerut and Bangalore) for transferring or terminating the long-term leases. While a decision has been taken not to purchase any new stock, the inventory is likely to be sold to distributors and agents.
The group plans to exit non-core markets and focus on a few geographies such as western Europe, China and Brazil. Earlier, it had exited markets such as Singapore, Malaysia, Indonesia and Greece.
Examples of retailers not cracking certain markets abound. For instance, Marks & Spencer couldn't crack France, re-entering later, said Singhal. While Tesco moved out of the US, Walmart exited Germany and Korea a few years ago.
In the past few years, Carrefour, which failed to find a partner in India, is believed to have held talks with many, including the Future Group, Reliance, DLF, Rahejas and Bharti.