Cheil Worldwide SW Asia appoints Atishi Pradhan as CSO
By VJ Media Bureau | Vjmedia Works | December 03, 2013
Atishi brings over two and a half decades of experience encompassing diverse categories ranging from FMCG and technology to education and health.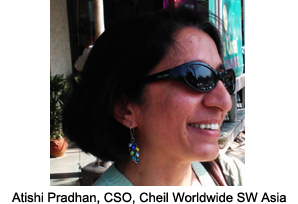 Cheil Worldwide SW Asia has announced the appointment of well-known Brand Strategist, Atishi Pradhan as its Chief Strategy Officer. Atishi will lead the Integrated Strategy function at Cheil - encompassing traditional, digital, retail and experiential divisions. She will also spearhead the agency's proprietary category/ consumer knowledge initiatives and guide both current and potential clients on brand marketing strategies. In addition, she will play an active role in enhancing data analytics, research, insights and new capabilities for Cheil in the Region.
Atishi joins from Mogae Media as Chief Strategy Officer, where she devised strategies for brands, as also guided the analytics on the Airtel base. Aside from developing sales tools and new apertures, she keenly evangelized these new mediums with clients and agencies alike. Atishi was also a member of the screening jury for MMA Smarties Awards for New York and India. Prior to that, Atishi spent over six years at Contract Advertising as Sr. VP and Regional Planning Director - Delhi & South, where she created and consolidated a planning culture and also looked after planning for the South offices (Bangalore & Chennai).
Preceding this Atishi has held senior positions in account planning at JWT, been a stay at home mom and a guest faculty at IIM, Bengaluru. A Physics Honours Graduate from St. Stephen's College, Delhi, Ashiti holds a PGDM from IIM, Ahmedabad.
Hari Krishnan, Chief Operating Officer, Cheil Worldwide SW Asia, said, "We are delighted to have Atishi on board to lead our integrated strategy function. As Cheil exponentially continues to grow business and capability, the need is to establish thought leadership. Atishi brings the much-needed mindset and experience for us to focus and succeed in this area. Her ability to create engaging, strategically-led ideas will be invaluable to Cheil."
Atishi Pradhan said speaking about the appointment, "I am really excited about working at Cheil. I believe there are many exciting opportunities ahead as it is an era where technology and new media are transforming everything around them. I am looking to bringing about transformations that drive brand solutions and create brand opportunities."