Consolidation of Indian retail on Biyani's radar
By Chaitanya Muppala | September 20, 2016
Future Retail, the group's flagship company runs over 700 stores across 13 million sq ft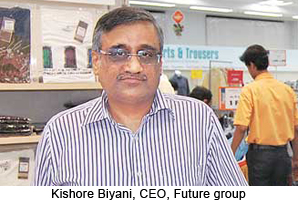 Future group founder and Chief Executive Officer Kishore Biyani is looking to consolidate Indian retail with acquisitions in food and grocery businesses, say industry sources.

The latest trigger has been Future group's buyout talk with the retail unit of Andhra Pradesh Chief Minister Chandrababu Naidu's family-owned Heritage Foods.

In fact, Heritage Foods told the BSE in a filing on Monday that the company was in talks with Future group for a possible business association.

This follows the buzz that he is in talks with Aditya Birla Group to merge or buy out Aditya Birla Retail.

"With sales, margins and profitability panning out, investors and promoters of retail chains are realising that they have invested for long and not made good returns. He is presenting a good opportunity for them to sell out, saying he is the last man standing," said Raman Mangalorkar, chief executive of data analytics firm Atom Data Lab and former head of consumer and retail practice for Asia-Pacific at AT Kearney, a global management consultant.

Besides Aditya Birla Retail, Tata-led Star Bazaar, Raheja-owned Hypercity, Spencer's Retail are yet to break even.

Mangalorkar says that by buying out chains, Biyani is increasing his scale and size, which is essential for negotiating with suppliers and property developers and managing logistics and supply chain costs.

Future Retail, the group's flagship company, runs about 700 stores across 13 million sq ft.

Biyani has bought out Niligiris and merged Sunil Mittal-led Bharti Retail with itself in recent years to strengthen his position in northern and southern parts of India. "He is looking to buy whoever is reasonably priced," Mangalorkar said.

Kishore Biyani could not be contacted for comments.

Susil Dungarwal, founder at mall management firm Beyond Squarefeet, says the improved scale will boost Future's margins significantly.

"With higher volumes, he can negotiate better with suppliers. Even a one per cent higher margin can boost his profitability," he said.

Biyani has sold off his fashion chain Pantaloons four years ago to Aditya Birla Group as well as stakes in a couple of fashion brands such as Biba and AND to pare debt in the group. At the same time, he picked up stake in brands such as Giovani and set up fast fashion chain Cover Story to bolster his presence in the fashion segment.

Recently, Biyani said the group was shutting its ambitious assisted e-commerce venture Big Bazaar Direct as they found it to be unviable to run the business.

Debunking the logic that e-commerce would be a viable business without the humongous rental, staff and inventory costs, Biyani said customer acquisition and fulfilment costs would add up to 50 per cent of total costs of doing an e-commerce business while in physical retail, these would be only 25 per cent.

"We are happy with old-fashioned physical retail. There are profits to be made. Our business (brick-and-mortar) has arrived. Theirs (e-commerce) is yet to arrive," he said.