Consumer electronic firms get tough with e-tailers
By Dinesh Jain | Vjmedia Works | November 12, 2014
Companies harden stance towards dealers, telling trade partners that warranties & other benefits would not be extended if sale was unauthorised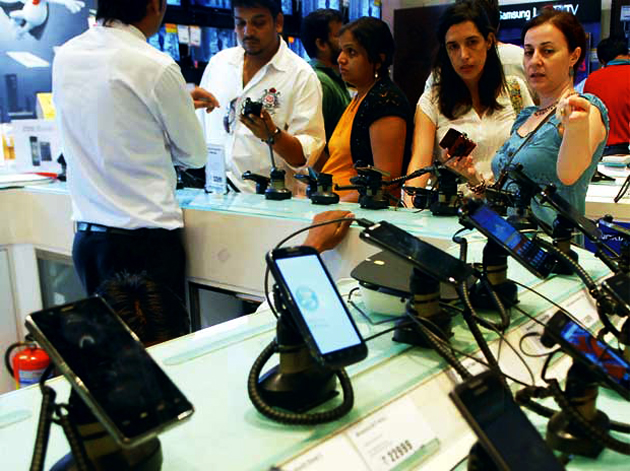 The hue and cry over Flipkart's Big Billion Day Sale last month has prompted consumer electronic companies to take safeguards against deep discounting. LG, Samsung, Videocon, Sony and Panasonic have instructed their trade partners that products sold through online marketplaces without their knowledge during flash sales will not get the benefit of after-sale service and warranties.
This comes as companies try to clamp down on sales by small dealers who offload products on online marketplaces for a small margin. Parallely, the companies have also initiated talks with online marketplaces to be fair in pricing.
These initiatives taken by companies became obvious on Tuesday during Snapdeal's Savings Day Sale and Amazon's Appiness Day. Heavy discounting below market operating price was avoided by both players, besides a more structured way of conducting the sale. Snapdeal's star product, the iPhone 5s, which has a market operating price of Rs 35,000, for instance, was available for Rs 31,499 or 10 per cent less. Similarly, Micromax's HD LED was available for Rs 19,990 ) on Snapdeal and the Blackberry Z3 was available for Rs 11,111 on Amazon, which was similar to the discounts available in offline stores during Diwali.
The 'unauthorised sale' clause for dealers was pressed into service by all companies on Tuesday to avoid what happened on October 6, when brick-and-mortar retailers were agitated over the deep discounting by Flipkart of television sets and mobile phones.
"The flash sales by Snapdeal and Amazon were not marred by controversy or complaints by consumer electronics companies," Amit Chadha, secretary-general of the Consumer Electronics and Appliances Manufacturers Association, said. "During Flipkart's Big Billion Day Sale, we received complaints within the first two hours. There was complete chaos. This time around there were no such issues," he said.
LG was the first company to issue an advisory after Flipkart's sale, saying it had not authorised any e-commerce company to sell its products in India, it could not vouch for the genuineness of the products sold online and it retained the right of not extending additional services and warranties on such products. When contacted, LG executives said their stand had not changed and they continued to deal with only offline retailers.
CM Singh, chief operating officer of Videocon Industries, said his firm's unauthorised sale advisory was intended to ensure offline retailers did not suffer. "We have to ensure there is fair pricing across channels," he added.
Manish Sharma, managing director of Panasonic India and South Asia, said, "We have always managed the expectations of our partners and stakeholders by ensuring that their interests are taken care of. We believe e-retailers and retail outlets will continue to co-exist to create a holistic and beneficial setting for the consumer."
PULLING THE PLUG
Companies have hardened their stance towards rogue traders and dealers, telling all their trade partners that warranties and other benefits would not be extended if the sale was unauthorised
Parallely, companies have initiated talks with online channels to be fair in pricing
Companies have also lobbied with the govt to regulate online channels
The result of all these efforts was that Snapdeal's Savings Day Sale and Amazon's Appiness Day was not marked by controversy