Croma takes the battle to online retailers
By Chaitanya Muppala | Vjmedia Works | April 03, 2014
Launches same-day delivery for its site, though analysts say others have eroded its headstart in the brick and mortar format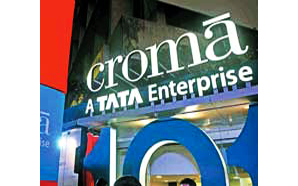 At the newly-opened Prabhadevi store of Tata-owned consumer durable and infotech chain Croma, a toy train with toy animals in the middle. But the toys are not to entertain children when their parents are busy shopping for gadgets. They are for prospective camera or lens customers to zoom in and take sample shots.

Croma is also looking to launch portable kiosks in railway stations, offices and factories, where people can check out and order products. It already has a few small stores under the name of Croma Zip and stores at airports. At 16 of its stores, the chain has staff with handheld card-swipe devices for customers to beat the queue at its cash counters.

One of the largest chains in home and consumer gagdets, Croma is making such moves to turn into a zannier avatar. It faces intense competition from not just other brick and mortar chains such as RIL-owned Reliance Digital and Kishore Biyani's Ezone, but e-tailers such as Flipkart, Snapdeal and Pepperfry. Marketing experts say e-retailers pose a bigger challenge.

Ajit Joshi, CEO and MD of Infiniti Retail says the stores and its e-commerce site are coming up with ways to take on competition.

Croma's website is offering same-day delivery. Customers placing an order before 2 pm, will receive them the same day or early next day. It is planning to start this service in two stores in Mumbai in April, and extend it to other stores in the city, Delhi and Bangalore by May.

E-tailers have a headstart in home-delivery logistics. Snapdeal will extend its same-day delivery services to more cities, after the National Capital Region. Orders placed before 1 pm would be supplied the same day, free of cost. Flipkart charges Rs 90 per product for delivery the next day, in seven cities.

"Online retailers are giving tough competition to physical retailers in IT and mobiles. The big chains have expanded their reach well but it needs to be see how they handle the competition from online ventures," says Abhishek Malhotra, partner and vice-president at Booz, a management consultant.

Croma will have an edge over other offline stores, says Joshi. Ezone's site takes a couple of days to deliver the orders and Reliance Digital does not have an e-commerce site.

Joshi believes Croma would also have an edge over e-tailers due to its combination of offline and online stores. "We have often seen customers flip-flopping between online and offline stores of ours," he says, and for them, Croma has something called 'OOPS' (order online and pick up at store). It does not require customers to completely vest faith in online buying of durables and retains a component of touch and feel before the product is finally brought home.

Croma stores would also sport service desks to help customers transfer data from their old phones, explain accessories that go with mobiles or laptops etc. "You do not get these kind of services on pure-play e-commerce sites," he adds.

Though Croma has missed its target to achieve a Rs 2,000-crore revenues from its online business by FY-2014, Joshi says the brand is clocking Rs 1 crore in sales every month.

"The price-points at our stores and e-commerce site are the same. You can even ask for a refund on goods bought online," he adds.

Some marketing experts believe that retailers such as Reliance Digital has beaten Croma in scaling up the business.

While Croma, which set up its first store in 2006, has 101 stores, Reliance Digital, which debuted a year later in Ghaziabad, has around 250 stores including Digital Express, Digital Express Mini and iStore. Ezone has over 40 stores.

"After intense competition from online retailers and after they ended the partnership with Woolworths, Croma has consolidated its presence in 2013 and 2014," says Rajeev Karwal, founder director at Milagrow Business and Knowledge Solutions, who was the first CEO of Reliance Digital. In 2012, Croma bought out Woolworths Wholesale, its back-end supplier for Rs 193 crore.

"Reliance Digital continues to splurge money on expansion," Karwal says, adding that "Croma has a strong play in Mumbai, Bangalore and Pune." But Joshi denies that the chain has slowed down. He says the chain has added 14 stores in FY-2014, comparable to growth in FY-2013.

Croma claims sales of Rs 180 crore from private labels. Joshi says the chain would add to its private labels this financial year.

Though the chain is yet to achieve profitability at the entity level, Joshi says the chain has achieve profitability operationally. The chain is looking at 27 per cent growth in topline in FY-2014 over sales of Rs 2,500 crore in FY-2013. "Entity level break even has not happened as we kept on opening new stores," he says. In comparison, in FY-2013, Reliance Digital made a profit after tax of Rs 64 lakh on a turnover of Rs 2,166.38 crore.