Croma to open around a dozen stores this year
By Chaitanya Muppala | Vjmedia Works | April 22, 2015
Croma runs about 100 stores across the country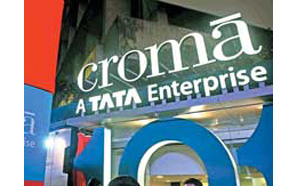 Croma, consumer durables and electronics chain of the Tata Group, is looking to open a dozen more stores this financial year.
In April, the first month of 2015-16, it launched three stores. Two more are being readied for launch in a month or so. "We have budgeted for around 10 new stores in FY16 but might exceed that, depending on the quality of location and store layout, if we get the right rental. We continue to focus sharply on calibrated growth in our chosen markets," said a spokesperson.
Croma's first chief executive and managing director, Ajit Joshi, quit the chain recently after eight years at the helm. Its chief financial officer, Avijit Mitra, is interim CE. Croma runs about 100 stores. It is also looking to launch new products in home appliances, the spokesperson said.
About six per cent of overall revenue comes from its private labels; in home appliances, the share of revenue is 25 per cent.
Croma's rival, Reliance Digital, which entered the fray later than the former, has become the biggest durables chain in the country, with about 1,100 stores. Its Digital Mini Express has also become largest mobile phone retailer.
"Croma continues to lead the consumer durables & information technology (CDIT) organised retail market in store throughput. In the immediate future, Croma will penetrate deeper into the top CDIT markets of India," the chain had said earlier.
The chain is yet to break even. Asked to comment, the spokesperson said: "Financial information is internal to the company. We are progressing toward our financial goals as per plan." Croma entered e-commerce in 2012 and tied up with Snapdeal last year to sell its products.
"We are already a step ahead in terms of omni-channel retailing and are in the process of rolling out some exciting customer-facing services this financial year, which will be announced once the pilots stabilise," the spokesperson said.