Deploying it right!
By Nabamita Chatterjee | November 09, 2017
Deploying the POSM materials in the right way has always been a challenge for this industry both at the general trade as well as in the modern trade store. R4G highlights the issue that has been plaguing the industry for decades and understands the unique hurdles it faces.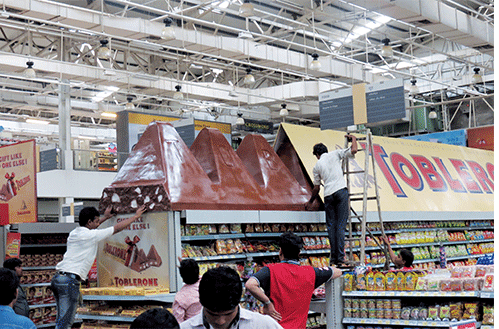 Every consumer brand is trying to create impact with instore branding at the retail store. However, deployment of these POSM elements to its fullest and in an effective way is still a challenge to be tackled in the Indian retail landscape. While speaking to the POP industry, we learnt that a certain percentage of deployment happens through the POP manufacturers when they are given end to end solutions and usually limited to modern trade channels. Whereas for the general trade category, the items are mostly handed over to the brand teams for deployment by their teams.
THE COMPLICATED ROUTE TO MARKET
Speaking with brands & retailers, we understand that deploying designled POSMs and complex assembly methods of some POP elements in modern trade is a time consuming job. Resulting in a rather undesirable final finish at times and wastage of POP elements. According to the industry players, normally, there is a different process followed by different companies on a case to case basis as per individual project. Shreesh Sharma, Director, GV Display shares, "Normally, we manufacture and dispatch the goods and the companies take care of the implementation with their merchandisers or some 3rd party agency for General Trade. But for Modern Trade, we do installation work for most of the companies. From our factory it is handed over to either our transporter or a company recommended/ appointed transporter to the CFA, then going to distributors and finally reaching the shopkeepers end. In Modern Trade case, we hand over the material either to our own transporter or company recommended or appointed transporter directory to an individual outlets."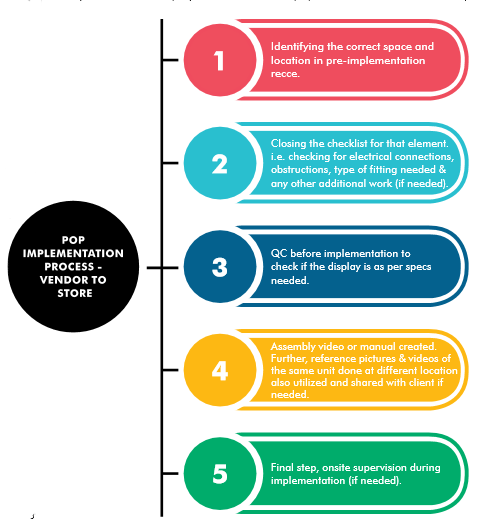 DESIGN TO MEET FUNCTIONALITY
It is said that a good way to change something is by retracing your steps. This sentiment is echoed by most players in the POP industry who believe that brands must first look at how effective is the design for deployment, and then craft POSM elements accordingly. "In India we have observed that while planning for a pop item or posm, the brands mostly look for a nice design led solution and later the issues like logistics and real time reasons are taken into considerations. On the contrary in the western markets or other developed countries, the approach is different and the brands first take into consideration on how easy will it be to deploy and which materials will help in the matter," shares Balaji Murugesan, Director SAB Creations. It is very important to see that the design should sync with the utility of the pop item and how it is seamlessly merging with the logistic process while transportation. Renesh Raghwan, Director, Niche Business Promotions Pvt. Ltd. shares, "80% of our items are foldable and thus comes down in a knock down condition and we also prepare a comprehensive assembly manual which is a common practice for this industry and it eases out the difficulties to a certain extent. Though after GST the pop logistics has become easier and the clients are more looking for end to end solutions."
ARE THE POP ITEMS RETAILER FRIENDLY?
With the increase in number of brands in the FMCG segment, we see that at the traditional retail outlets are always clutterred in terms of advertising and marketing messages. Same time there is a great amount of wastage in the deployment of pop items. Balaji of SAB Creations is of the opinion that the wastage % in GT is as high as 25% in most cases. It is predominantly because of the lack of space and/or the larger size of POS material made nowadays which is not retailer friendly. The same can be applicable for even MT to an extent, which is mostly because of the competition in the market. The brands consciously tend to make the units bigger and shout-out loud rather than making an effective yet compact unit that can fit at most GT outlets. Thus, wastage is seen more as a by-product of this compromise for the POP industry. Jose Palanthinkal, Director of Ideal Design and Display shares, "India being a complex country with such diverse geography, damages happen due to the road transportation as well and this a very basic issue but surely a fundamental one which we also face."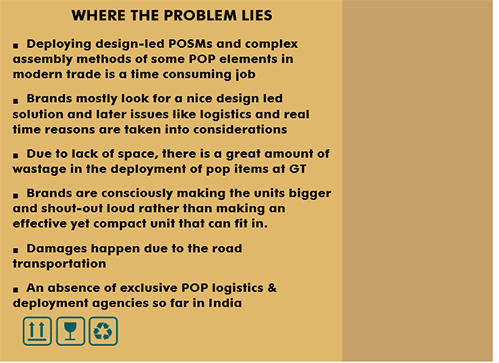 EXCLUSIVE POP LOGISTICS SERVICES
According to industry sources, there is still an absence of exclusive pop logistics agencies so far in India,who specializes on such services and ensuring the POP elements reach the last mile. High cost of manpower is one reason for this concept not gaining the required mileage. However, sometimes few multinationals either employ separate teams to do POP executions or it is either done through 3rd party or by a vertical within their own field force. But the flip side of this is that they do not specialize in complex implementation work, so in this case the work goes back to the pop manufacturer. Implementation costs today are almost half of the total logistics cost.
TO GET IT RIGHT
Overall, the POP industry reckons that in-order to excel at implementation & successful deployment, the sector first needs to crack the cost and time taken for logistics, brands should partner with vendors to design effective yet deployable units, create POSM elements that take lesser space which is also utilitarian for GT stores. There is also tremendous scope for professional deployment agencies.