Designer Abhishek Roy launches his fashion studio Bohurupi
By Nabamita Chatterjee | Vjmedia Works | June 29, 2017
As a future expansion plan, this label will be made available in cities like Delhi, Mumbai, Chennai and Hyderabad very soon through tie-ups with MBO's and exclusive outlets are also on the pipeline.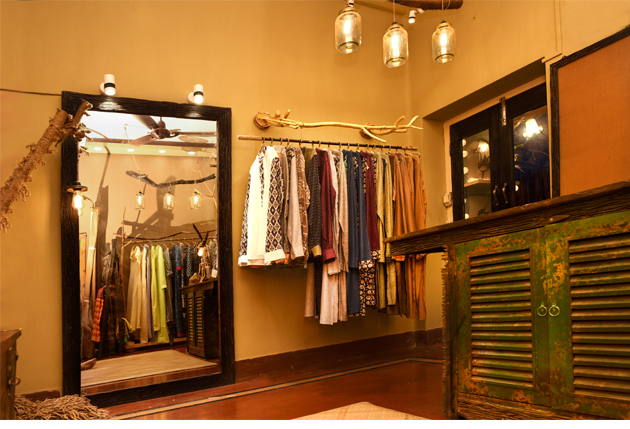 Kolkata based fashion designer Abhishek Roy recently launched his studio Bohurupi at Tollygunge, in the southern part of the city. Spread over an area of around 1000 sq. ft. in an old south Kolkata building, the interiors of Bohurupi are made of eco-friendly and recycled materials. Roy states that the USP of the store is that it is different from regular designer stores. It is a" Designer Studio". While talking to retail4growth on conceptualization of the space, he mentions, "I always wanted my store to be situated in a considerably old Bengali house having typical red flooring with high ceilings and red staircases, and this space matches with all of it. Also being a student of textile art in Shantiniketan's Kala Bhawan I am very much inclined towards using the natural elements while designing my couture and the store has a reflection of it. It is earthy, boho and I feel very rooted while working from this space".

His collection caters to all age groups and all sizes. He uses organic fabrics like linen, cotton, jute, using hand textured prints and block prints having an attractive platter of silhouettes for both men and women. Bohurupi also offers designer accessories like jewelry, bags etc. and the patrons can pick and choose from the displayed range of ready to wear Bohurupi line and also fix appointments for customized services. There is also a Design library space that has a collection of books on fashion and textiles. Having worked with artists and actors Roy would like to engage in future a space or place here that gives the customer a "total look" destination - catering to makeup, makeovers and fashion tips. He wishes to introduce later, workshops on makeup and other style elements in his studio. Speaking on the expansion of the designer studio Roy mentions that wherever this label will travel the same earthy concept and this look and feel will be the signature of his exclusive outlets.